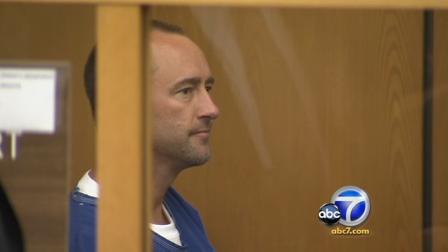 Accused pedophile Wade Bughman's defense attorney today will tell a Pasadena Superior Court jury that his client didn't molest students at a Duarte elementary school.
Prosectuors told a different story on Tuesday. Here's what Brenda Gazzar reported.
Closing arguments began Tuesday for the trial of Wade Bughman of Monrovia, 43, who was charged with crimes of a sexual nature against five girls over a period of 15 years while he taught at Beardslee Elementary School in Duarte.

The nine counts against Bughman include oral copulation of a person under 14, the crime of continual sexual abuse, forcible rape, sexual penetration with a foreign object and lewd acts upon a child.

With enlarged photos of the five young girls smiling behind her, Los Angeles County Deputy District Attorney Debra Archuleta told jurors the girls endured physical, emotional and psychological abuse at the hands of a pedophile that robbed them of their innocence.

Many of the girls were shy or submissive and some sat in the back of the classroom, she said. They were allegedly molested at lunch, during recess or after school in the "Think Together Program."

Some of the girls in his class called him "rapist" and had code words to warn others they needed help, Archuleta said. She described Bughman as a "practiced and skilled manipulator" in satisfying his own lusts and desires.