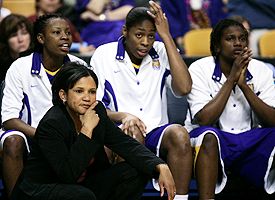 Isolated incedent or developing trend? And what was Pokey thinking about?
When it happens, not if it happens, at the prep level, will it be as frowned upon?
The shot above is that of former LSU women's basketball coach Pokey Chatman. She recently resigned because of an alleged, inappropriate sexual relationship with a former player. It also came out that LSU disallowed her to have one-on-one contact with players following a February complaint from an assistant coach. It's not known whether Chatman's actions with the former player happened when the player was actually on the team, but a source close to the team told ESPN.com "that's my understanding."
Aram thought: It's only a matter of time before a female high school sports coach gets popped for having "inappropriate relations" with a female member of her team. Yeah, I know, it will be a change of pace, compared to your typical male coach/female player fiasco. But will it be met with the same furor? Any parents have a take?