Even Mike the Clone got moved by the Sonia Morales feature. But will he attend?
YOUR LAST CHANCE TO SEE THE TOP SGV HOOPSTERS IN THEIR SCHOOL COLORS
… And if that's not enough for you, the proceeds go to charity. I hope all of you decide to attend. This is a very fun event and the boys game is usually pretty intense and not your typical all-star game.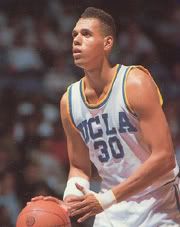 SURPRISE!: Tracy Murray, Cameron Murray and Brandon Lee will judge the dunk contest, according to game organizer Gordon "Boom Boom" Hamlow. I hope it's true.
GIRLS GAME: 5:30 P.M. (wink wink)
BOYS DUNK CONTEST: Following the girls game
BOYS GAME: 7:30 P.M. (wink wink)
Aram's predictions:
BOYS GAME: Tribune 102, Star-News 95 (Usual talk of a blowout notwithstanding).
GIRLS GAME: Tribune 97, Star-News 60 (Depending on traffic)
DUNK CONTEST: Jon Joe (I've just have to believe him when he says he has something coming)
BOYS 3-POINT CONTEST: Adam Malik, La Canada (Have you seen this kid play?)
GIRLS 3-POINT CONTEST: Ashley Paul, Glendora (Scary when hot)