Tonight: UCLA vs. Virginia Commonwealth, 6:40 p.m., Channel 2. I'm covering a Bonita-Los Altos softball game tonight. Please girls, make it quick 🙂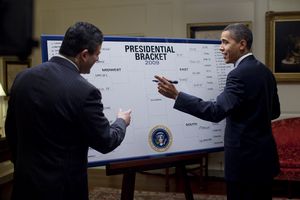 President Obama fills out his bracket and picks UCLA to lose. What is he thinking?
"Everybody is saying we're going to lose the first game. Right there is enough motivation for myself." — UCLA point guard Darren Collison.
President Obama filled out his bracket and picked the Bruins to lose…
I thought it was because we beat Oregon State twice," said Bruins freshman guard Jrue Holiday, referring to Oregon State coach Craig Robinson, Obama's brother-in-law. "
Then it was Collison's turn again … "When you have the President of the United States going against you, and Dwyane Wade also said VCU was going to beat us. That's enough motivation. I don't know what it is, but that's enough right there.