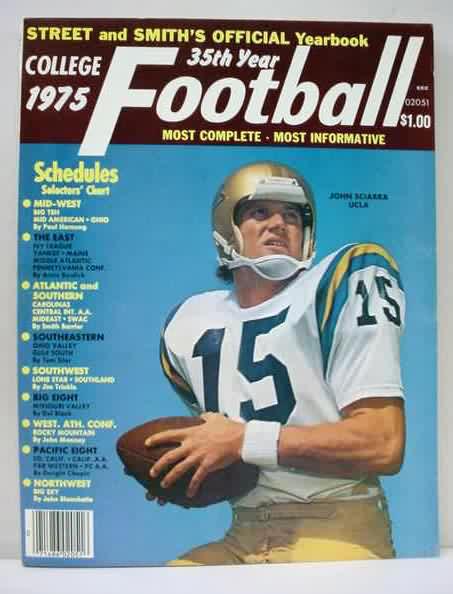 When the question of who was the best football player in the San Gabriel Valley comes up, John Sciarra's name usually is near the top of the discussion.
The former Bishop Amat High School star, who is in the Rose Bowl Hall of Fame and played in the 1981 Super Bowl for the Philadelphia Eagles, was that good.
Sciarra will reflect on his career Friday when he speaks at the Pasadena Quarterbacks Club at Brookside Golf Club.
The weekly luncheon, which begins at 11:30 a.m., costs $25 for members and $30 for non-members.
This is the final meeting of the season for the 66-year-old organization, and it may have saved the best for last.

For some, Sciarra was one of the top quarterbacks ever to come out of the Valley. He succeeded Pat Haden, who also is considered one of the area's best, at Bishop Amat and led the Lancers to the 1971 CIF-Southern Section 4A title. He also was named CIF-SS Player of the Year.
From there, he went on to UCLA, where he was an All-American. Sciarra was the spearhead of the Bruins' veer attack under coach Dick Vermeil and engineered one of the biggest upsets in Rose Bowl history when the No. 20 Bruins beat No. 1 Ohio State, 23-10. He completed 13 of 19 passes for 212 yards, including touchdowns of 16 and 69 yards to Wally Henry as UCLA overcame a 3-0 deficit at halftime to blitz the Buckeyes during the final 30 minutes.
Sciarra, who was inducted into the Rose Bowl Hall of Fame in 1991, then played two seasons in the Canadian Football League with the British Columbia Lions (1976-77) before spending six years in the NFL with the Eagles (1978-83), where he was re-united with Vermeil and teamed up to help Philadelphia earn a trip to Super Bowl XV in New Orleans, where it lost to the Oakland Raiders, 27-10.
Sciarra spoke about that game in a 2005 interview.
"They had a lot of talent. We had a lot of talent," he said of the Raiders, who were led by quarterback Jim Plunkett and receiver Cliff Branch. "We were kind of the blue-collar team and they had big-play guys.
"I think we were wound a little too tight and some of our players didn't play their best game. We couldn't get the game to go our way. We clearly played with them; they didn't dominate us, but they made big plays and at the end of the day we didn't get it done."
Sciarra finished his six-year NFL career with four interceptions and 909 return yards.