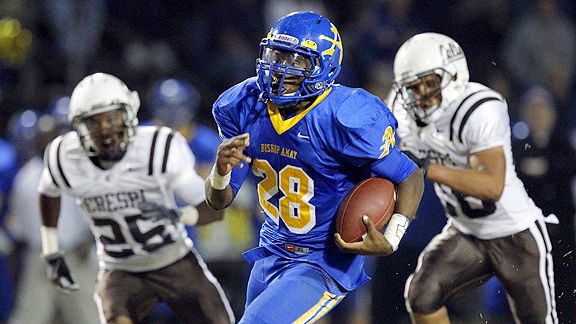 1. Jalen Moore, Bishop Amat, Sr. — Earned Serra League first-team honors and rushed for 1,634 yards and 23 touchdowns. He was even more impressive when Zach Shay turned his ankle against Crespi. Even though everyone keyed on him, he was still able to produce.
2. Jamel Hart, South Hills, Sr. — One of the few bright spots on the Huskies' miserable 3-7 campaign. He rushed for 1,318 yards and 17 touchdowns, and did so against one of the area's toughest schedules.
3. Chris Solomon, West Covina, Sr. — The reigning player of the year and Southeast Division MVP rushed for 1,790 yards and 20 touchdowns and will be an even bigger focal point this year. Think about it, he only had 151 carries, averaging nearly 10 yards a carry.
4. Corey Victoria, Glendora, Sr. — In coach Todd Quinsey's run-oriented offense, he inherits a gem in the 6-foot, 180 pound back, who will share the backfield with Donovan Holmes, who give the Tartans quite a 1-2 punch.
5. Gevontray Ainsworth, Covina, Jr. — The third piece of the Colts' triple threat, which also includes quarterback Billy Livingston and all-purpose standout Vinny Venegas. I thought Ainsworth looked intimidating as a sophomore, already 6-foot and 175 pounds. I'm expecting a monster year from him in 2011.
6. Kurt Scoby, Charter Oak, So. — Rushed for 470 yards and 10 touchdowns as a freshman, but will be called upon much more to help balance out quarterback Travis Santiago. Whenever Charter Oak's football teams have had success, they have had solid backs.
7. Jamaal Clayton, Diamond Bar, Sr. — He rushed for 70 yards and three touchdowns as a junior, but figures to be an important piece in coach Ryan Maine's offense. If Diamond Bar has success, Clayton figures to be a big reason.
8. Dillon Corona, San Dimas, Sr. — He was on the 2009 championship team and in coach Zernickow's Wing T, the fullback figures to produce and produce heavily. The Saints don't rely on one back, but if you have to zero in on one, it's Corona.
9. Desmond Reed, Azusa, Sr. — The Aztecs shared the load and shared in well in 2010, but expect Reed to get the bulk of the carries and be among the area leaders in total yards. He's a natural back with cutting ability and speed. With Sierra Vista's Giovanni Rivera not with the Dons, Reed should be the league's best back.
10. Donald Morris, Pomona, Jr — I'm taking coach Anthony Rice's word that he will be one of the area's top backs. With the kind of schedule Pomona faces, someone like Morris should be able to rank among the area's rushing leaders.