"All of them are must-win, but at the same it's feasible that if we don't win, we would have to win our last two and make the playoffs. We don't want to be in that situation, and we're going to put our best foot forward on Friday night." — Bishop Amat coach Steve Hagerty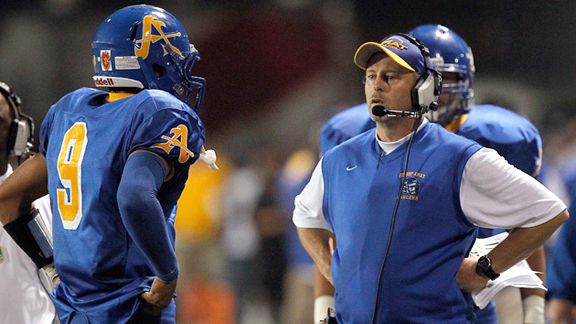 By Aram Tolegian
Steve Hagerty knows a win Friday at Crespi would do wonders for his team's postseason outlook, but the fourth-year Bishop Amat coach also is stressing it won't be the end of the world should the Lancers falter. "All of them are must-win, but at the same it's feasible that if we don't win, we would have to win our last two and make the playoffs," Hagerty said. "We don't want to be in that situation, and we're going to put our best foot forward on Friday night."
Amat lost its Serra League opener last Friday in a hard- fought game against defending league champ Alemany. The Lancers now hit the road in trying to get back into the league title race against a Crespi team they ran all over last year. The plan Friday may not be much different than what it was last year – use tailback Jalen Moore to chew up big chunks of yards and keep the Crespi offense off the field.
"He's one of our better players, so we definitely want him to have success," Hagerty said of Moore, who rushed for 262 yards and two scores last year against the Celts. "I wouldn't use the word `pound,' because I'm not sure that fits us. We just have to execute."
It's still questionable whether Amat gets back all- purpose threat Zach Shay, who's missed a large portion of the season after suffering two concussions. Hagerty said Shay is "running around" with the team but isn't taking any contact. He could be cleared by doctors soon, though.