To read Steven Rivera's players of the year story along with Travis Santiago and Justen Meaders' offensive and defensive honors, and Mike Maggiore's coach of the year story, click the thread.
RIVERA .. MAGGIORE …. MEADERS .. SANTIAGO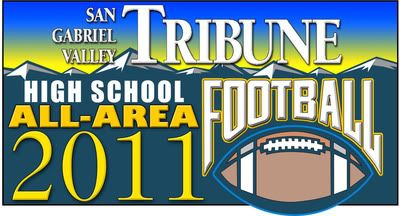 Player of the year: Steven Rivera, Arroyo, Sr.
Coach of the year: Mike Maggiore, West Covina
Offensive Player of the Year: Travis Santiago, Charter Oak, Sr.
Defensive Player of the Year: Justen Meaders, West Covina, Sr.
First Team Offense
QB — Travis Santiago, Charter Oak, Sr.
RB — Jalen Moore, Bishop Amat, Sr.
RB — Jimmy Frazier, West Covina, Sr.
WR — Hunter Duran, Arroyo, Sr.
WR — Aaren Vaughns, Charter Oak, Jr.
WR — Jamie Canada, South Hills, Sr.
ALL — Vinny Venegas, Covina, Sr.
OL — Jesse Gaytan, El Monte, Sr.
OL — Alec Zenner, San Dimas, Sr.
OL — Nick Enriquez, Chino Hills, Sr.
OL — George Castro, West Covina, Sr.
OL — Louis Oliva, Charter Oak, Sr.
K — Jack Schneider, Charter Oak, Jr.
First Team Defense
DL — Nick Hynes, Covina, Sr.
DL — Philip Romano, Covina, Sr.
DL — Justen Meaders, West Covina, Sr.
LB — Dorrin Turner, West Covina, Sr.
LB — Johnny Padilla, Covina, Sr.
LB — Justin Fa;'aola, Los Altos, Sr.
LB — Alex Arevalo, Damien, Sr.
DB — Desmond Reed, Azusa, Sr.
DB — Michael Patini, La Puente, Sr.
DB — Chris Solomon, West Covina, Sr.
DB — Jonathan Thropay, Charter Oak, Sr.
P — Brian Drulias, Diamond Bar, Sr.
Second Team Offense
QB — Billy Livingston, Covina, Sr.
RB — Kurt Scoby, Charter Oak, So.
RB — Sir Darius Yarbrough, Pomona, Sr.
WR — Chris Gilchrist, Charter Oak, Sr.
WR — Justin Mason, Covina, Sr.
WR — Jack Austin, Chino Hills, Jr.
ALL — Dillon Corona, San Dimas, Sr.
OL — Lake Aiono, South Hills, Jr.
OL — Jared Kough, Pomona, Sr.
OL — Moises Morales, Los Altos, Sr.
OL — Raymond Amaya, West Covina, Sr.
OL — Adrian Pena, La Puente, Sr.
K — Brandt Davis, Bonita, Jr.
Second team Defense
DL — Sal Velasquez, Bishop Amat, Jr.
DL — Logan Tracey, Damien, Sr.
DL — Jesse Ojeda, San Dimas, Sr.
LB — Skyler Crall, Glendora, Sr.
LB — Naim Colbert, Chino Hills, Sr.
LB — D.J. Daniels, Bishop Amat, Jr.
LB — Matt Eddy, Rosemead, Sr.
DB — Lonzel Barnett, West Covina, Sr.
DB — Khari Garcia, Charter Oak, Jr.
DB — Ajee Montes, Bishop Amat, Sr.
DB — Garrett Horine, Bonita, Sr.
P — Jose Esparza, Rosemead, Sr.
Tribune players of the Year (1969-present)
1969 Fred McNeil, Baldwin Park RB
1970 Pat Haden, Bishop Amat QB and John McKay Jr., Bishop Amat WR
1971 Mike Vicino, Royal Oak RB
1972 Rob Hertel, Los Altos QB and Ron Himes, Walnut QB
1973 Dennis Sproul, Los Altos QB
1974 Brian Bethke, South Hills QB
1975 Richard Nyden, Azusa QB
and John Van Vuren, South Hills RB
1976 Bob Epps, West Covina DL
1977 Don Roberts, Temple City RB
1978 Ron Stivers, West Covina RB
1979 Ray McNeill, El Monte WR
and Danny Trejo, Baldwin Park WR
1980 Bill Stone, Royal Oak RB
1981 Blake Smith, Los AltosQB
and Steve Lauter, Los Altos WR
1982 Mike Smith, Los Altos QB
1983 Randy Tanner, Bishop Amat; Paul Hewitt, Monrovia
1984 Michael Johnson, Baldwin Park QB
1985 Eric Bieniemy, Bishop AmatRB
1986 Eric Bieniemy, Bishop Amat RB
1987 Bill Gallis, Northview QB
1988 Jason Martin, Los Altos TE/DB
1989 Marshawn Thompson, Bassett RB
1990 Jason Patterson, Bishop Amat FB/DE
1991 Marc Ruiz, Baldwin ParkQB
1992 Lawrence Phillips, Baldwin Park RB-DB
1993 Miguel Meriwether, West Covina QB/DB
1994 Daylon McCutcheon, Bishop Amat RB/FS
1995 Oscar Interiano, Sierra Vista RB
1996 Oscar Arzu, Sierra Vista RB
1997 Nick Covarrubias, Covina QB/DB
1998 Steve Stevenson, Charter Oak WR/RB/DB
1999 Jason Wright, Diamond Bar, RB/DB
2000 – Felipe Aguilar, Los Altos, QB
2001 – Donnie McCleskey, Bishop Amat RB
2002 – Daniel Drayton, Randall Brown, Los Altos RBs/DBs
2003 – Brigham Harwell, Los Altos DE
2004 – William Wagner, Bishop Amat RB
2005 – Mike McDonough, Covina QB
2006 – Mike McDonough, Covina QB
2007 – Dorian Wells, South Hills, RB
2008 – Chris Allen, Charter Oak, RB
2009 – Adam Muema, Charter Oak, RB
2010 – Chris Solomon, West Covina, RB
2011 – Steven Rivera, Arroyo, QB

PLAYERS OF THE YEAR STORY
By Aram Tolegian, Staff Writer

His season at quarterback was good enough to make him the All-Area selection at that position.
His season at safety was good enough to land him a spot on the All-Area defense.
Put them together and it's easy to see why Arroyo High School's Steven Rivera is the Tribune 2011 Player of the Year.
"It was awesome, I felt like I wanted to jump off the walls or go out and run," Rivera said of his reaction when he was told by Knights coach Jim Singiser that he would join the long list of Valley football greats who were named Tribune Player of the Year.
"Just to be mentioned with the guys on the list like Pat Haden or Mike McDonough, I think that's an honor. I think it's the first time Arroyo has ever had a guy do this. It's a great feeling to know I'm going to be remembered."
Rivera is the first-ever Arroyo player to be named Tribune Player of the Year. And beside that distinction he also finished his career as the Valley's career leader in passing yards and touchdowns, and in the CIF-Southern Section's top 10 in both categories, too.
But it wasn't just the 3,408 yards and 38 touchdowns passing that earned Rivera the honor. Nor was it his 429 yards rushing and nine touchdowns, or his 131 tackles, seven caused fumbles, five fumble recoveries and four interceptions. It was the combination of all those stats and the ability to make crucial plays on both offense and
defense that led directly to Arroyo wins.
"You're talking about a guy who would make a big hit on defense, force a turnover, recover the ball, then come right back out on offense and go right for the throat," Singiser said. "And he did it a lot. He would force a turnover and then bang, next play we're in the end zone on offense.
"There were times this year when he threw a touchdown pass, turned right around and went out on defense and got an interception and then two plays later we scored. I've never seen anybody be able to effect a game that quickly."
Rivera led Arroyo to a 10-2 record. The Knights swept the Mission Valley League for the third consecutive year under Rivera. And Rivera got his first postseason win when Arroyo beat Sierra Vista in the first round of the CIF-Southern Section Mid-Valley Division playoffs.
Arroyo was a last-minute touchdown pass by San Gabriel away from being in the semifinals.
For as good as Rivera was all over the field, he had competition elsewhere in the area for the award. Charter Oak quarterback Travis Santiago put together an amazing season for the Chargers and was named the Tribune's Offensive Player of the Year after throwing for 3,251 yards and 27 touchdowns. Santiago also ran for 552 yards and 11 touchdowns.
With Santiago at the helm, Charter Oak had the most explosive offense in the area and the Chargers finished 10-2 and won the Sierra League because of it.
"My hard work paid off this year and it was about time," Santiago said. "We won league and it was good for us. That's one thing we wanted, but as a team everybody wanted more. I think we deserved more.
Overall, it was a good season.
West Covina defensive end Justen Meaders was the pressuring force on a defense that allowed just 14 points per game this season and helped the Bulldogs win their consecutive Southeast Division championship.
Meaders is the Tribune's Defensive Player of the Year after recording 101 tackles, 13 tackles for loss, 10 1/2 sacks and causing five fumbles.
"Knowing that I was given the chance to be the Defensive Player of the Year is pretty cool," Meaders said. "All my hard work paid off.
"Last year, I was under the radar, so I wasn't being keyed on. This year, everyone was trying to stop me and they weren't really able to.
I put up big numbers. I had more tackles than last year. I'm just happy about what happened."
For Rivera, sometimes big stats weren't enough to always guarantee Arroyo a victory. That's when he had to literally take matters into his own hands.
Against Montebello and La Canada, Rivera stripped the ball at crucial times in both games to secure wins for Arroyo. In the playoffs against Sierra Vista, Rivera stripped a Dons ball carrier and returned the takeaway for a touchdown that turned a 14-10 lead in the second half into 21-10 as the Knights drew away for a comfortable win.
But perhaps Rivera's best all-around performance came against rival Rosemead. With Arroyo trailing 21-14 and Rosemead inside Knights territory early in the fourth quarter, Rivera stripped a Panther ball carrier and returned the ball to inside Rosemead territory. On the next play, he fired a pass that got Arroyo to the 1 where running back
Peter Aholoka tied the game on the next play.
Rivera wasn't done, however. Following a stop, Arroyo got the ball back with just over 4 minutes to play and Rivera had huge completions to receivers Andre Kerkhoff and Anthony Leon to set up the go-ahead score. Leading 28-21, Rosemead drove to the Arroyo 25, but Rivera ended the threat by intercepting a pass at his own 15 to give the
Knights the win.
Two weeks later in the league championship against El Monte, Rivera put the fire out early on El Monte's hot start by forcing a fumble that helped Arroyo erase an early deficit and go on to a 35-20 win. He finished with 368 yards passing and four touchdowns.
"Everybody knows what it takes to be a great play, but nobody wants to do it," Rivera said. "I took it upon myself to go the extra mile, to run that sprint extra hard.
"It's all individual stuff, but at the end of the day it couldn't be possible without the coaching staff and my teammates. They rallied around me and they trusted and believed in me. It's an awesome feeling."
Despite all the big wins and huge numbers, Rivera's personal highlight to the season may surprise some people.
"Highlight of the year would be playing with my brother," said Rivera, who's brother James played center for Arroyo. "To go out my senior year and have him be my center and for us to be that close, it was awesome. It brought us together, to tell you the truth.
"It also made my heart warm that I ended up getting Mission Valley League Player of the Year and he got Lineman of the Year."
Playing football at Arroyo was a lifelong dream for Rivera. He was a ball boy in 2004 when the Knights went 12-1 and lost in the semifinals to South Hills. He would ride the bus with the team and talk about plays with the coaching staff.
Rivera was not classically trained, like most prep football standouts are these days. There was no private coaching or clinics. Heck, to this day Rivera doesn't own a cell phone and has a part-time job at Lampost Pizza in El Monte.
But he always made time to put in the extra work needed to realize his football goals. If it meant staying after practice long after most of his teammates left, he did it.
Rivera's season ended with a tough loss to San Gabriel. He fired what appeared to be the game-winning touchdown pass with under two minutes to play. But San Gabriel quarterback Andy Guerrero did him one better by completing a fourth-down touchdown pass in the final minute to earn the win.
The loss still hurts Rivera, but he has no regrets.
"That loss will carry on with me the rest of my life, but I sold out and the guys around sold me out," Rivera said. "It was beautiful because we were all working together as one. But we just came up short by two points. There was nothing else we could have done. The emotion and tenacity was there to win that game, but we just came up short.
I'm proud of our guys and the way we played that game."
The Arroyo, San Gabriel Valley and CIF record books will make it so that Rivera's name won't soon be forgotten. His records won't soon be broken and that means his legacy will live on while future quarterbacks take aim at his lofty stats. But for Rivera, the numbers aren't the only thing he wants to be remembered for. How he got them
is just as important.
"I want to be remembered as the kid who had character," Rivera said. "The kid who said yes when other people said no. The kid who put in the extra time to run the extra sprints when everybody else was going home.
"I want to be remembered for being that guy."
MIKE MAGGIORE COACH OF THE YEAR STORY
By Aram Tolegian, Staff Writer
A year ago, West Covina High School football coach Mike Maggiore was named the Tribune's Coach of the Year for the second time in his career after leading the Bulldogs to a 13-1 season and the CIF-Southern Section Southeast Division championship.
When asked about his vision for the Bulldogs program, Maggiore stated he believed that West Covina could reach elite status. This season, his program took another big step toward doing just that.
After finishing 13-1 and winning back-to-back titles in both the Hacienda League and Southeast Division, Maggiore is once again the Tribune's Coach of the Year.
"I think we're moving in that direction, but we're not there," Maggiore said when asked if his program can now be considered among the Southland's elite. "We're one of the better programs in the Valley. I don't think there's any question about that. We've been good for two years and we want to keep going and see if we can even get
better."
If you broaden things out a bit, West Covina has won three CIF titles in the past eight years. All have come under Maggiore, who has put in place a brand of football that focuses on toughness and speed. It fits perfectly with the type of kids West Covina gets and the rewards have started to show in a big way.
For years, West Covina bankrolled the other programs in the Valley. Top talent that would have gone to West Covina went to places like Los Altos, South Hills or even Bishop Amat. Not anymore. In fact, not only has Maggiore's goal of keeping the homegrown talent home been reached, now players from outside the area are wanting in on the action.
It all adds up to a burgeoning football empire that can simply reload after losing key players and reach the same goals as past teams.
"My second year here, we lost our three best players to Los Altos," Maggiore said. "They went over there and won a CIF championship. It's taken a while to get to a point where kids want to stay.
"I don't personally agree with all the transferring, but I do understand it. It's society and that's the nature of things. It's nice to be at a level where people want to be involved in our football program. We had 130 kids out between our varsity and junior varsity,
and we had over 60 on the freshmen team. We had a very small number when I started. That's a testament to our staff."
West Covina was not without its questions entering this season. Sure, the Bulldogs returned 2010 Tribune Player of the Year Chris Solomon and 2011 Tribune Defensive Player of the Year Justen Meaders, but three-year starting quarterback George Johnson was gone. So was all-purpose standout Beejay Lee, record-setting linebacker Maurice Dupleasis and 4/5s of an offensive line that saw every starter be
named to the Hacienda League's first team last season.
But the system Maggiore and his staff use remained in place. A rigorous offseason weightlifting program groomed another batch of powerful linemen. The speedsters came in droves and did their thing on both offense and defense. It all added up to West Covina losing only to perennial Southland power Loyola.
The Bulldogs dealt with injuries, including one to Solomon, but won close games over Covina, South Hills and Glendora in the nonleague. By the time league play began, West Covina was getting healthier and starting to roll. By the time the Southeast Division playoffs began, West Covina was a well-oiled machine set for a record-setting
postseason run.
West Covina scored progressively more points in each round of the playoffs than the round before. Everything culminated with a 84-21 win over La Serna in the championship that shattered the CIF record for most points scored in a division championship. And the Bulldogs did it only throwing the ball three times and with a running clock in the fourth quarter.
"I felt like we weren't in a close game pretty much the entire last half of the season," Maggiore said. "I don't think it's really sunk in how easy it was. It seemed on paper to be pretty easy. Our guys didn't take anyone lightly.
"We were healthier than we'd been all year going into the playoffs, which is unusual for any high school team. We just kept getting better and better. I was surprised by how well we played in the playoffs. We had a lot of kids that just stepped up and played really well and made everything really easy."
Judging by what West Covina has coming back next season, the fun may not end anytime soon. Maggiore and his staff are likely to unveil former youth football sensation Antonio "Noodles" Hull at quarterback. There's a 1,000-yard rusher back in Aaron Salgado. Rancho Verde transfer Justin Hornsby, who looks like Meaders' twin brother in pads, will be eligible with CIF to play.
After a long offseason in weight room, West Covina should be ready to take another step toward elite status. Maggiore will give his team the opportunity to do just that with tough nonleague games against Loyola and Chino Hills. If the Bulldogs win those games, there's no telling how things might end up.
And for Maggiore, who already has three CIF rings and quite a bit of career ahead of him, the chance is there to put his name up in some pretty rare air with the top coaches in Valley history.
"I never really expected this," Maggiore said. "It's really kind of surprising. When I started, the goal was just to get to the playoffs and try to be competitive more than anything. And I didn't really know what I was doing.
"You stand back from it, and yeah, I'm surprised with where I'm at. The thing is, we've had good players and we've had solid assistant coaches. We have coaches on campus who really care about the players. That's how you win football games."