Keith Durflinger's Bonita photo gallery
Bonita matches Paramount's run in the sixth and pitcher Justin Garza does the rest as Bearcats advance to semifinals

Bonita 2, Paramount 1: Top-seeded Bonita High School hung on and moved into the semifinals of the CIF-Southern Section Division 3 baseball playoffs with a 2-1 win over visiting Paramount on Friday in front of an overflow crowd.
The Bearcats, who lost in the semifinals last year and in the finals in 2010, will play at Gahr, a 15-4 winner over Quartz Hill, on Tuesday.
The Bearcats (29-2) took a 2-1 lead in the bottom of the sixth inning of Friday's quarterfinal, then got two outstanding defensive plays to give ace Justin Garza his 11th victory of the season.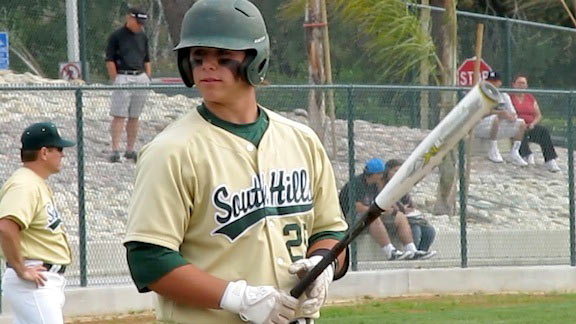 South Hills' Ty France belts three doubles with four RBIs in another easy win for the Huskies, but it won't be that way on Tuesday against powerful Pacifica, who clobbered defending champ Mission Viejo, 17-2

South Hills 10, Rancho Verde 0: The CIF-Southern Section Division 2 baseball playoffs were supposed to be a bunch of grind-it-out, survive-and-advance nail-biters because of the parity and quality of the division.
South Hills didn't get that memo.
Senior Ty France belted three doubles with four RBIs, including a bases-loaded double in the second that drove in three runs and pitcher Adrian DeHorta did the rest, scattering four hits and going the distance as South Hills easily defeated host Rancho Verde of Moreno Valley 10-0 in the quarterfinals on Friday.
Trabuco Hills 3, Glendora 2: After a thrilling run through the CIF-Southern Section playoffs, the season came to an abrupt end for the Glendora High School baseball team.
Trabuco Hills (18-13) scored the winning run on a passed ball in the eighth inning to defeat the visiting Tartans (18-10), 3-2, in Friday's Division 2 quarterfinal game.
Beckman 2, Los Altos 1: The Conquerors had Kaprielian on the ropes in the top of the sixth inning with the bases loaded and nobody out, but only scored once in a 2-1 loss to the host Patriots. The Conquerors finished 20-10.
Friday's Baseball Quarterfinal Results
Division 2
Trabuco Hills 3, Glendora 2 (8 innings)
South Hills 10, Rancho Verde 0
Division 3
Bonita 2, Paramount 1
Beckman 2, Los Altos 1