*Today was the final day at Cal State San Bernardino. And it's almost a shame because today we probably had the best weather in all of the two weeks we've been here. It was a cool 82 degrees when practice ended, but to be fair practice did start at 8 a.m.
**The team presumably packed before start of practice and was ready to board buses back to Westwood when it ended. UCLA will be off Friday and get back on the field Saturday afternoon before the team's "Meet the Bruins" event at Drake Stadium beginning at 3:30 p.m. The next two-a-day practice is Sunday.
***Practice today was mostly situational drills, specifically on special teams. They ran some plays in between to simulate a game. No pads, though. P Jeff Locke left a the bulk of the punting/kicking duties to Ka'imi Fairbairn and Justin Moreno. They were part of the emergency drills on special teams.
****WR Shaq Evans had some tightness on his left hamstring yesterday but it was minor. And you knew it because today he made some pretty slick plays. He made a good low reach in mid-air for a reception. But what made that catch even more spectacular is that he was sandwiched by DB Ishmael Adams and CB Brandon Sermons.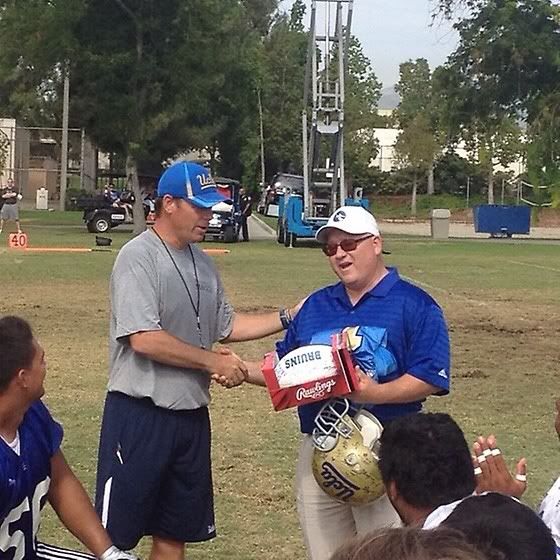 Above: UCLA coach Jim Mora and CSUSB A.D. Cliff Dochterman Photo via Twitter @Angus_McClure
*****Mora had a long talk with the team in the final huddle. Near the end, Mora thanked Cal State San Bernardino athletic director Cliff Dochterman for facilitating the Bruins' stay on campus. Mora showed his appreciation and handed Dochterman a football, helmet and jersey. Mora then let Dochterman break the final team huddle. "This guy is amazing," Mora said. "Every time we asked for something rather than saying, 'We can't' or 'No' or 'We don't do that' it was 'We'll get it done.'
"This is a guy that it wasn't unusual for him to be emptying trash cans at 12:30 1 at night and then be up the next morning at 6 o'clock making sure the meeting rooms were open and the food was good. Without him this would not have been possible." … Maybe even more amazing is that Dochterman is barely a year into his role as athletic director.
******I thought it was kind of funny that after the final team break RB Paul Perkins dropped to his knees and extended his arms in the air happy to be going back to Westwood.
*******On a personal note, this marks the end of my two-week assignment covering UCLA football. Not sure if I'm back moving forward. I can't stress enough how much I enjoyed covering this beat in the short term. The 110-mile drive every day these two weeks and 100-plus degree weather was really an after thought for me. I've enjoyed interacting with you guys on here, the good and bad. Thank you!