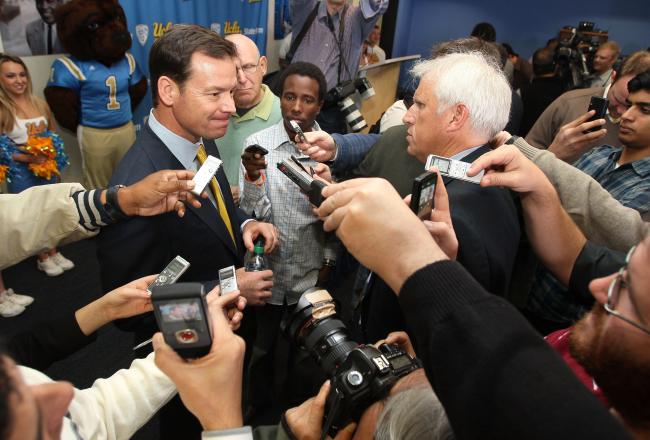 UCLA coach Jim Mora held his weekly conference call with reporters after the Bruins' 36-30 victory over Nebraska. Mora broached on several subjects, and I've transcribed it as best and accurately as I could.
On the offensive linemen's performance:
"Pass protection was excellent. It was better than I thought. It felt like Brett had a lot of time back there. We tackled better than it appeared, although we did miss some tackles."
On UCLA being ranked in the AP Top 25:
"It's not something I've thought about nor something I will probably think about. To me personally there's no significance in being ranked after two weeks. To our fan base and alumni and for the exposure that it brings our school I think it's a good thing. It's a great thing, but for us as a football team it doesn't matter."
On the the significance of wins:
"When you win it confirms the things that you're doing, the things that you're stressing and emphasizing on are the right things and you get more buy in."
On the defense's second half adjustments:
"We didn't pressure one time in the second half. When we pressured in the first half we gave up some plays. We played gap control defense and kept our eyes on (Taylor Martinez) and not give him escape lanes. We basically just backed off on the pressure and limited our calls to those we really feel good about, and they did a heck of a job with it."
On his first NFL Sunday in 25 years not being part of it:
"I didn't think about that until you brought it up. I was doing TV stuff the last couple years. I know the Redskins were playing because Devin Fuller had his Redskins jersey on. I'm sure when I go home my son will have a game for us to watch."
On breaking down the Datone Jones safety:
"They were running a scheme where they would turn the defensive end loose and they would run their option off of him, that was really the same play where Taylor went 92 yards on. We just played it right. Datone had the quarterback and there was no hesitation on what he did. He fired through that and was not blocked by design. He just did what he was supposed to do, but boy did he did it in an intense and aggressive manner. There was no hesitation in what he saw. That's him understanding a scheme and really making a good play for us."
Mora when asked how Brett Hundley's ankle doing:
"Good. No X-rays, MRIs needed. We should get Sheldon (Price) and Darius (Bell) back for practice on Tuesday."
On true freshmen Randall Goforth and Ishmael Adams:
"I was confident in them. Ish was playing down in that nickle spot so he's more protected. Randall was playing on the back end where a mistake is more threatning, but they both did a nice job. Randall normally makes those interceptions. He has good hands. He played receiver in high school and we thought about playing him at receiver here. I know he was ready to go. I didn't feel the stage was too big for him."
On the penalties:
"Some are aggressive penalties. Like Damien Thigpen's hit on a returner. It's hard to tell him not to go do what he did. It's your basic instinct as a football player. So those you can kind of accept. It's the pre-snap penalties that we sometimes would get on offense, those are the ones that can be frustrating because those are concentrating mistakes."
Mora quipped with reporters about our print deadline. The Times had a 9:05 deadline. The Daily News had a 9:30 deadline. Next week's game against Houston is slated for a 7:30 p.m. start at the Rose Bowl.
"You have no chance going in. I don't know if the first quarter will be over by 9:05."