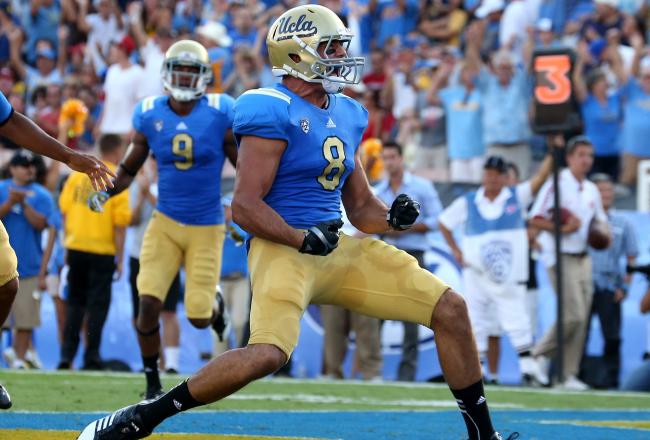 BRUINS' REPORT CARD
UCLA 36, No. 16 NEBRASKA 30
UCLA RECORD: 2-0, 0-0 PAC-12
QUARTERBACK: A+
Brett Hundley proved he's no fluke, not that anyone was thinking he was. And if anyone was, shame on them. He bettered his numbers from last week, completing 21 of 33 passes for 305 yards and four touchdowns, including a 49-yard bomb to The White Mamba, Steven Manfro. But most importantly in Hundley's numbers is a big fat zero, as in no interceptions. Hundley's poise is proving to be infectious. He was impressive following through his progressions in the pocket thanks to some very good protection from his young but talented line. It's almost a wonder how a kid who is just a freshman carries himself with such confidence with a kick of swagger to his game. Last week it was Johnathan Franklin who earned Pac-12 Offensive Player of the Week Honors. Anyone else hearing Hundley's name?
RUNNING BACKS: A
Johnathan Franklin also was no one-hit wonder, and Franklin also bettered himself from last week's impressive performance. Many said, 'Well, the Bruins played good but it came against Rice. Rice!" …. No worries, Franklin's got wheels for days, and if you don't believe me ask the Nebraska secondary. Franklin burned past them on his way to 217 yards on 26 carries. Franklin seems to have it all: vision, speed and a physical style with a no-quit attitude. He can catch the ball from the backfield and can run with good patience for blocks ahead. He averaged 8.3 yards per carry against Nebraska. Damien Thigpen continued showing off his speed. This category was close to an "A+" if not for Jordan James' fumble. It's all good. No harm no foul, but against a much more disciplined team (dare I say like, USC?) can come back to haunt the Bruins.
WIDE RECEIVERS: B+
Hundley connected with eight different receivers after connecting with nine last week against Rice. This says that Hundley for certain has plenty of weapons at his disposal. Tight end Joseph Fauria is a defensive coordinator's nightmare. He's a mismatch all day. Fauria, at 6-foot-7, showed good separation and made Nebraska pay for it with the first touchdown, a 27-yard pass from Hundley as he ran down the UCLA sideline. Redshirt freshman Devin Lucien showed signs of brilliance. The kid's a straight up baller with some serious hops. You saw him break tackles and stiff-arm defenders for extra yards. Steven Manfro, the kid everyone wrote off last week after fumbling and dropping a sure TD pass, bounced back strong burning three defenders for an impressive 49-yard touchdown in the second quarter.
OFFENSIVE LINE: A
What more can you say about these young guns? Freshmen Torian White, Jake Brendel and Simon Goines are certainly not playing like freshmen anymore. Sophomore Xavier Su'a-Filo and senior Jeff Baca give the Bruins a sick blend of youth, talent and even some experience with Baca holding it down at right guard. Just when you thought the Bruins' 600+ total offense last week was just an inflated number against an inferior team like Rice, UCLA comes right back out and smacks Nebraska in the mouth for a whopping 653 total yards, 344 of which came on the ground. Woulda been an "A+" if not for Hundley getting sacked three times.
DEFENSIVE LINE: B
Datone Jones is a beast. He recorded three tackles, all for a loss, and on top of that made what Jim Mora called the play of the game on a safety after going unblocked and introducing himself to Taylor Martinez in the end zone for a safety. Jones even came close to an interception, if not for Martinez's knee hitting the ground before throwing it away on Anthony Barr's sack. Owa Odighizuwa had two tackles, one for a loss. Ellis McCarthy got burned by Martinez on an option read, and what should have been a tackle for a big loss turned into a long gain for Martinez. But not to worry. You saw last week what McCarthy is capable of doing, so take a chill pill. Areas of concern: UCLA gave up 260 yards rushing, 119 for Ameer Abdullah and 112 for Taylor Martinez. Some missed tackles in the first half, too.
LINEBACKERS: B
Anthony Barr is a man on a mission. He recorded a sack and almost caused a fumble on that play if not for Martinez's knee hitting the ground first. Still, Barr was a menace. He finished with four tackles and 1.5 tackles for a loss. Eric Kendricks had the second most tackles of the day for the Bruins with eight, and Jordan Zumwalt looked to be back in form wreaking havoc, including a hard hit in the first quarter when he tattooed Ameer Abdullah.
SECONDARY: B
True freshman Randall Goforth made his first career start one to remember. He finished with a team-high nine tackles and nearly recorded two interceptions that virtually went through his hands. Andrew Abbott, who moved to corner, recorded a momentum-swinging interception in the fourth quarter.
SPECIAL TEAMS: C+
Sure, a couple missed field goals missed by Ka'imi Fairbairn. But the true freshman was not deterred. He converted from 35 and 22 yards, and Jeff Locke punted four inside the 20, including two inside the Nebraska 5. The latter led to Datone Jones' safety that changed the game.
COACHING: A
Solid call giving Goforth the start. He's proven himself in practice and earned the start. The adjustments in the second half again were evident as Nebraska's Martinez went 4 of 14 for 30 yards in the second half. The Bruins had just one turnover. Also, UCLA was 9 of 20 on third-down conversions. Nebraska went 1 for 11. UCLA, however, needs to clean up its penalties. The Bruins were penalized 11 times for 126 yards to Nebraska's seven for 60 yards. Wrinkles to iron out, but nothing Mora can't handle. Plus, you also had to love that Mora called two timeouts to ice Nebraska kicker Brett Maher on a 54-yard field goal attempt. Sure, Maher made it on the third try to end the first half, but it was fun.
OVERALL: A