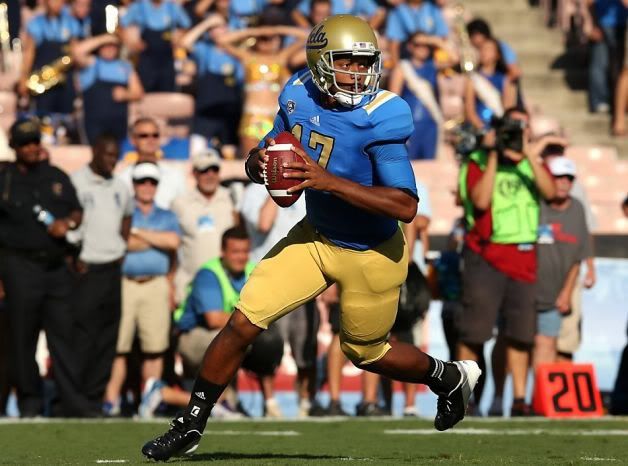 The first time UCLA met Houston was in 1977 in Houston. The Bruins lost, 17-13. The last time the teams met was last year. The Bruins lost, 38-34 in Houston. The series is an even 3-3 but the Bruins hold a 2-1 edge when playing at the Rose Bowl. Even if this game was played on glass in the a parking lot, there's just no way UCLA loses this game. UCLA is favored by 17, but forget for a minute what UCLA has done over the last two weeks and focus on Houston. The Cougars gave up 56 points to Louisiana Tech and 598 yards of total offense. Houston's defense is ranked 114th in the nation. That's 114 out of 120 FBS schools. On top of that, the Cougars will miss two starters on the offensive line, making them even more vulnerable. All indications point to UCLA's offense, ranked No. 3 in the nation, having a field day. Johnathan Franklin is the nation's leading rusher two games in. If the line can open lanes for Franklin he'll have another big game. What separates Franklin from the rest of the running backs so far is his effort after taking off. He's relentless pushing for extra yards and bouncing off tackles. Brett Hundley had a phenomenal game last week, but the same advice Steve Young gave RGIII will serve Hundley good: don't be the reason your team loses. Hundley was one of the main reasons UCLA won last week, but he doesn't have to be the reason why they have to win, just don't be the reason they lose (turnovers, forced throws). For a freshman Hundley is polished enough to know that the game will come to him. And so goes Hundley, so go the rest of the Bruins. The defensive front has to take advantage of the inexperience on the O-Line and they have to find a way to stop a Houston offense that ranks fourth nationally in passing offense (395.5 per game). QB David Piland set an NCAA record for mot pass attempts (77) in a game without an interception, but if the D-Line can get a quick push up front they can force Piland to make ill-adviced throws. That's where the secondary comes in. They can jump passing lanes and put an end to Piland's party. It's an opportunity for the DB's to showcase their skills. UCLA's defense is 71st in total defense (398.5 per game) but 31st in pass defense (181.5).
UCLA coach Jim Mora said there are similarities with Houston in regards to offensive schemes and tempo, but the familiarities don't end there.
Houston special teams coordinator and inside receivers coach Jamie Christian has spent the majority of his career on the West Coast and has several ties to the UCLA coaching staff.
UCLA running backs coach Steve Broussard served as wide receivers coach in 2010 and 2011 alongside Christian (special teams coordinator/inside receivers) at Arizona State.
UCLA special teams coordinator/linebackers coach Jeff Ulbrich was a starting linebacker with the San Francisco 49ers during Christian's two seasons with the team when he served as a defensive quality control coach.
UCLA wide receivers coach Eric Yarber has coached with Christian on three separate occasions at Arizona State (2007-09), San Francisco 49ers (2003-04) and Oregon State (2000-01).
UCLA's graduate assistant for special teams Taylor Mazzone spent two seasons as an offensive assistant at Arizona State with Christian.
Not only did current UCLA offensive coordinator Noel Mazzone serve as offensive coordinator at Arizona State with Christian in 2010 and 2011, but he also acted as offensive coordinator at Auburn in 2000 and 2001 when Houston head coach Tony Levine was a graduate assistant, as well as coaching the quarterbacks during three of Levine's seasons as a player at Minnesota (1992-94).
Live-chat coming later around 6 p.m.
RELATED LINKS
UCLA coach Jim Mora radio interview on Colin Cowherd at the 29:00 mark (ESPN)
UCLA coach Jim Mora not taking Houston lightly despite 0-2 mark (L.A. Daily News)
Cougars head west with daunting task on deck (Houston Chronicle)
QB Piland's confidence in UH unshaken (Houston Chronicle)
Coaching moves shake up college football (Yahoo! Sports)
Houston Cougars blog (Houston Chronicle)
HOUSTON VS. No. 22 UCLA
WHEN: 7:30 p.m., Rose Bowl
TV: Pac-12 Network
RADIO: KTLK 1150-AM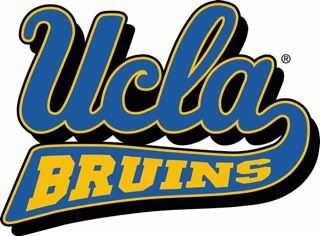 UCLA WINS IF …
… the Bruins avoid playing down to their opponent.
… the offense continues to fire on all cylinders.
… the defense can get off to a strong start and not wait until the second half to play lock-down defense.
TOP UCLA PERFORMERS
PASSING
Brett Hundley: 42 of 61, 507 yards, 6 TD, 1 INT
RUSHING
Johnathan Franklin: 431 yards, 3 TDs, 10.5 avg., 41 carries
RECEIVING
Joseph Fauria: 7 catches, 95 yards, 13.6 avg., 3 TD
Steven Manfro: 7 catches, 86 yards, 12.3 avg., 1 TD
Damien Thigpen: 6 catches, 89 yards, 14.8 avg.
DEFENSE
LB Eric Kendricks (19 tackles)
S Tevin McDonald (12 tackles)
LB Anthony Barr (10 tackles, 2.5 TFL, two sacks)
UCLA INJURY UPDATE
Out: None
Doubtful: None
Questionable: None
HOUSTON WINS IF …
… it can overcome playing with a relatively inexperienced center and right tackle.
… quarterback David Piland doesn't get thrown out of his comfort zone in the pocket.
… the Cougars defense can avoid giving up another 600 yards of total offense.
TOP HOUSTON PERFORMERS
PASSING
David Piland: 70-of-121, 791 yards, 5 TD, 1 INT
RUSHING
Charles Sims: 34 carries, 142 yards, 4.2 avg., 2 TD
Ryan Jackson: 10 carries, 45 yards, 4.5 avg.
Kenneth Farrow: 6 carries, 21 yards, 3.5 avg.
RECEIVING
Daniel Spencer: 13 catches, 206 yards, 15.8 avg., 1 TD
Dewayne Peace: 13 catches, 154 yards, 11.8 avg., 1 TD
Charles Sims: 12 catches, 64 yards, 5.3 avg.
DEFENSE
LB Derrick Mathews (27 tackles, seven TFL, two sacks)
LB Phillip Steward (26 tackles, 4.5 TFL, one sack)
DB Zach McMillian (18 tackles, 10 solo)
HOUSTON INJURY UPDATE
Out: C Kevin Forsch (leg), RT Ralph Oragwu (leg).
Doubtful: None.
Questionable: WR Larry McDuffey (leg).
PREDICTION
No. 22 UCLA 48, Houston 10