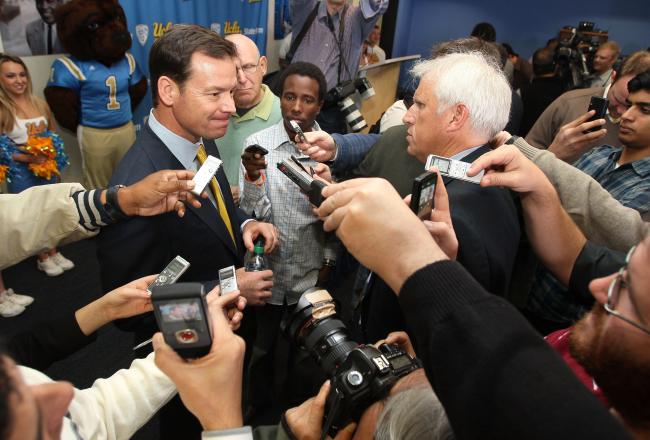 On the UCLA secondary:
We gave up one deep ball and we gave up one slant. We took a bad angle and they ran for a touchdown.
On getting help over the top on the slant:
We were in a defense where he was on his own out there and he's supposed to have help in the middle of the field, and when the guy got inside him on the slant he tried to under cut it. He should have stayed on the up field shoulder and made the tackle. We've done a good job up to this point defending the deep ball and they got one in on us.
On what they saw that kept the rushing game grounded:
They weren't doing anything special. Remember how we talked last week and Houston was bringing extra guys and penetrating. They were not doing that. They were playing us pretty much straight up in terms of not stunning and blitzing. They were playing their safeties tight. It's almost a nine man front. I think really the bottom line is we struggled to move people off the line of scrimmage in the run game. We just struggled with the point of attack and get some cut off blocks, which is very uncharacteristic of the way we've been able to excute our running play this year. We have to make sure we get that squared away.
On losing leverage on the line when going deep on the depth chart:
Here's the thing about that. It's less about depth and it's more about having an opportunity to prpeare during the week. Unfortuantely because of circumstances this week we weren't able to get the two guys that play that position in the game any work at all because early in the week we were getting Greg Capella work, and when he went out and Jeff was scheduled to play then Jeff had catching up to do so we had to get Jeff to work. I think that everyone on our team is capable of performing and helping us when I think it's really difficult for the players when they don't get any work that they get during the week and then they have to go in and play now it's expected of them but it is difficult especially against a really good front like Oregon State. It's not an excuse we still have to get better and but it was certainly a factor. It's unfortunate they didn't get the work. If this is the NFL I would be less inclined to say, 'Hey go out to perform' but we're not dealing with professional athletes here.
On Jeff Baca's condition:
I think I will have a much better idea tomorrow. And hopefully a very clear picture of what the future is for him.
On the placcards:
We haven't talked about that. I don't think it was a big deal. I think we can function well without them. I'll let you know when I talk to Noel about it.
On the tempo:
The tempo was okay. The problem was is that tempo doesn't work like the tempo should work when you're going three and out. You're not stringing together any eight or nine play drives. But the tempo and the rhythm was good but it just doesn't look good when you're not sustaining drives. We were not put it together drives. Some of that was due to the fact that Oregon State did an excellent job of slowing down the game. They were snapping the ball inside of 10 seconds and sometimes inside of five most of the game. We have to do a better job of getting off the field on third-down defensively so we can get the offense the ball. And talking with Noel (Mazzone) today I think that we have to be realistic as coaches about just how fast we can go given the fact that we have a freshman quarterback, two freshman tackles and a freshman center in making sure that they see things the right way before the ball snaps. I think sometimes you can have the tendency that — if you're so inclined — to get away with tempo rather than execution, so if we make such a huge emphasis on tempo rather than execution we don't give our guys a chance to diagnose the defense before the ball snaps, I think we're making a mistake.
On Sheldon Price's coverage:
When you're in bump and run and you put your hands on a guy, you play it perfectly. In terms of how you're supposed to play it at the line of scrimage, and then they take a one step drop and throw a fade, that's one of my pet peeves that I've always had with the rules of football. Being that I'm kind of a defensive back minded guy is that you can call pass interference on every single play. If every time a guy was in bump and run you just took a one step fade and you put your hands on them you're doing your job. By rule you have to call it. My problem is there's no way to teach around it if you're going to be a bump and run team. It happens to everyone, it happens in the NFL. If you coach defensive backs we talk about it. How can this be an enforceable rule? How can we have a bump and run as part of our game plan if every time we put our hands on a guy — if it's a one step fade — they throw the flag. Was it called correctly? absolutely. Did Sheldon play it right? Yeah, you couldn't coach it to be played any differently. It's an unfortunate situation.
On third-down conversions:
When you're struggling to throw the ball on early downs you're going to get yourself in situations that are tough to convert. It goes back to early downs. Against Nebraska we were 9 of 20, 5 of 17 last week, 2 of 15 and against Rice 2 of 11. You always have to go back to second down and see how that effects third down.
On the 24-hour rule, win or lose:
I'm not one of those coaches where you say let's forget about it and move on. I think you have to let it seap in. It's going to hurt a while because you put so much effort. I don't want it to linger. There comes a point in time of the week where you have to get past it. We say 24 hours but this week because of our schedule change it's going to be a challenge. It's our job to move them past it. You don't want to do it too soon and you don't want to wait too long. It's tricky.
On Greg Capella's status:
A concussion. Still being evaluated. He was not at the game. We do not have an update on him as of yet. We hope to know something by Monday or Tuesday. We really need to know something by Monday or Tuesday. We really need to know something so we can plan. Hopefully he'll be OK. With head injuries we're erring on the side of caution.
On what he saw in the waning seconds of the game:
What I was looking at hard yesterday was body language and effort. We fought to the end. Our guys had good body language. They believed we were going to have a chaance to get it done. Those were good things. I didn't see guys coming in and giving up at all. I didn't get a negative vibe on the sideline. A lot of disappointment in the locker room. Very quiet. Everyone took it very serious and I think those are all good signs for us moving forward.