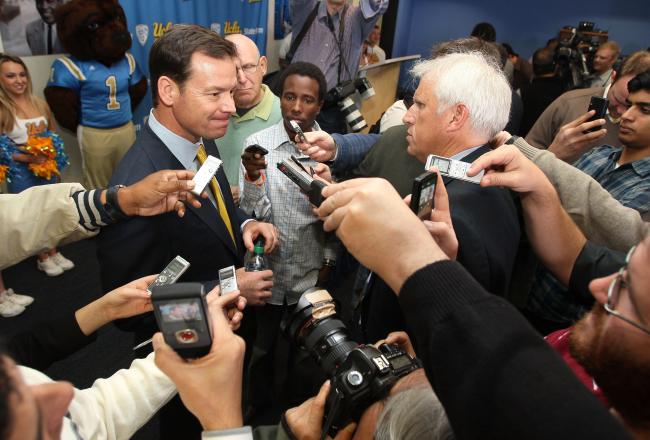 On when Brett Hundley will learn to slide:
I don't want him to slide. I want him to dive, and I'll tell you why. Steve Young taught me this a long time ago when I was fortunate enough to work on the staff when he was quarterback in San Francisco. He (Young) felt like he could get the extra yardage and protect his body and the ball better if he drove rather than slide. I don't know that you'll see a shot of Steve sliding. That's what I'm trying to get Brett to do. It's the next step in developing as a quarterback. There's a fine line between exposing yourself to hits and being careful in getting extra yards.
On how Hundley looked on tape:
He got better. I think he understands exactly what we're talking about. Just getting him to do in games. It's not a huge concern for us right now. There's other things that we're more concerned but it's something we want him to improve upon. It's not something you can do at practice. You just have to go through with it.
On Devin Lucien:
His clavicle is broken. He'll have surgery at some point this week. He'll be out 8 to 10 weeks, potentially.
On the impact of losing Lucien:
I don't know yet. I feel good about the guys we have. We'll miss (Lucien) because he's such a playmaker. But I feel good about the other guys. Jerry Rice and Jordan Payton, they played well. Shaq and Jerry are doing a good job. Logan Sweet got some time in there. We got our reserves. It's not something that we have the luxury of worry about because it is wha tit is. Hopefully our developing young guys can step up and do a good job. It was good to see Marcus Rios go in there. It's good for our overall development.Besides Devin we came away from the game real healthy again.
On what areas Brett Hundley needs to accelerate:
I don't know if there's any specifics. Knowing when to slide, maybe keeping his eyes up the field when he's getting rushed. Those are things he's going to learn and get better with experience. There's always little things when you see film; maybe deliver the ball a little more faster here and there.
On Ellis McCarthy playing guard:
We had him in there last week in practice with the intial thought he could do some short yardage and goal line situations. When we didn't know about Jeff we said let's get him in there. He has the potential top lay in there. He played guard in high school. In the end we said let's get him some snaps. We got him some snaps on offense and defense. I don't know where we go from there. We haven't talked about it if we're gong to get him more snaps on offense.
On whether there's any update on Jeremy Castro and Javon Williams:
I do not. I would like one if you can find one out for me, that would be great.
On UCLA's 12 tackles for a loss vs. Colorado:
If we can get third and long situations because we create negative plays it's going to help you get off the field. We try to play a penetrating attacking style. That doesn't necessarily mean blitzes. When you see those tackles, it's encouraging.
On whether the defense is mixing up when to bring pressure:
We haven't changed anything at all. We can bring either outside linebacker or inside linebacker in. We typically rush four. One of the outside linebackers is the fourth rusher. It can be dependent on our call, it can be dependent on our rotation. When we bring one of those guys it's not a blitz. That's just kind of our fourth man. We mix it up. It was just last night that left tackle of theirs No. 53 or 59 on Anthony (Barr), he's a really good player. Damien (Holmes) was having some success on their right side.
On whether Jordan Zumwalt will practice next week:
I don't know yet. Hopefully. It's just a matter of him wearing his helmet comfortably.
On going 7 of 15 in third-down conversions:
I'd be happy with 15 of 15 but 7 of 15 is an improvement. We're always looking for ways to stay on the field.
On whether manageable third downs led to improvement:
Better execution, good decisions by Brett. Still, when you look at the film critically like we do we just left a lot out there. You see our potential.