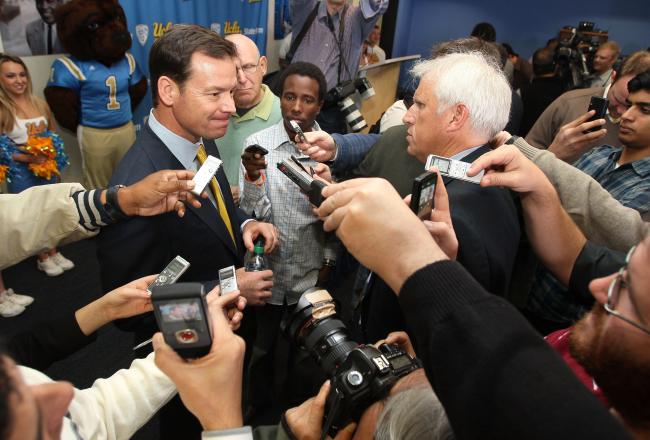 On whether he got a read on the breakdowns with execution:
Yes, I'll tell you what I saw. Our guys played extremely hard, as hard as I've seen them play in any of our six games, but we weren't able to overcome mistkaes that we made. Some of those were due to Cal outperforming us or putting pressure on ue or having a better call up for their players. Some of them were due to inexperience and youth. I haven't said this to gyou guys at all and I don't like to, but we're an extraordinarily young football team, especially on offense. We got in an environment last night that was difficult for us. When we got behind and they were able to pin their ears back and come after our quarterback we had trouble stemming that tide. We really did. They made us a little bit one-dimensional thatn we'd like to be. As coaches we have to find a way to help our guys and create more success for them when we're struggling. Defensively, there were four plays in that game that we had missed assignments that really hurt us. Other than that, like I said, we played well, but as you guy sknow it's those "if only" plays that end up killing you, and you can't wipe them out. You go on the road and you turn the ball over six times, it's going to be difficult, and we made it difficult on ourselves.
On whether he saw anything during the week that would have led to this:
Not in terms of preparation or our focus. I knew that they were a talented team. I said that to you guys. They're better than their 1-4 record, they just hadn't put it together yet. I didn't see it in the way we prepared, in our attitude or our focus that it would lead to me to think how it got. We had some turnovers late when we were in desparation mode, and you see that at times.
On the receivers:
We only had three drops, which is an improvement over seven from last week. Jerry Johnson tried to play but came out after the first series. Ricky Marvray got his first extended amount of time. The routes were good, but there was some miscommunication. I wouldn't put that on the players. I would put that on us explaining what we want in that situation. But the receivers, they blocked pretty decently, but again, Cal was attacking and coming down hill.
On whether there's a higher level of concern over penalties:
It wasn't a concern until last night. And the reason it's become a concer is we really put an emphasis on it. I always look and see what the reason for the penalty is and if we have an offsides or false start to me those are lapses in concentration. If we have a hold or we have a face mask, we ask, are we up against a guy that we're overmatched or are we not doing things technique wise to avoid the penalty. Last night we weren't using the appropriate technique that we should use to not have to hold or grab a face mask or do something like that. Just something we have to continue to stress.
On whether the pass blocking needs a quick fix:
It hasn't been terrible, but it wasn't good last night. If you don't control the score and play from behind it makes it difficult. We have to fight through it. We have to help these guys get better every day in practice. We have to know they're getting valuable experience everytime they're getting out there. But in terms of a quick fix, no. We just have to keep getting better and work at it.
On the cornerbacks:
We need to play with more consistency and we need to help them at times with some adjustments that I'm responsible for making. We got a little sloppy at times. We have to eliminate that. I saw them both playing hard. I saw them fighting and working. We just had a tough night.
On what kind of adjustments he needs to do to help:
I'm always invovled with both sides of the ball. The first place you look as a coach if your team is struggling is yourself. What could I have done better to help our guys. There's a couple of plays where we put our players in tough situations, and I'm on the headphones, I'm involved on every call. I had an incling that I should run down and call a timeout when I saw an audible. I couldn't get down there, and that's what I'm talking about, to be in a position to help our players.
On the mood the bus ride back home:
They were quiet and concerned and serious. Just like they were after Oregon State. There was no smiles, no laughing. It was a disappointed and dejected team. But I'm confident they'll bounce back. When you work as hard as they've worked and you have the expectations that they have, it's tough to lose.
On whether this loss will be tougher to get by because it was lopsided:
When you look at the film you don't really track the score. We know we lost. But an offense will look at the offense and the defense will look at the defense and the special teams will look at the special teams. You don't look at (film) in continuity. It's kind of segmented. You don't focus on the score, you focus on the process, on the fundamentals and what we cand do to get better, and the score becomes secondary. When you get in the film room and you get in the video room you focus on each play, one singular play at a time.
On Xavier Su'a-Filo switching to left tackle:
Torian, his knee was bothering him a little. We needed to shore up that side a little bit for Brett. He was under some pressure, so we made that adjustment.
On not being oblivious to the score:
If you let losses linger or you let wins linger and you don't get on to the next one you're really doing it the wrong way. We'll work real hard at making corrections, applying correction and moving on to the next one. We don't forget about it, but we try to learn from it and move past it. That's how you develop consistency in your play. We're still working on that. It's a process. We have to continue to push, push, push and get to the point where we're consistent week in and week out and not make mistakes. There's a sense of urgency to reach that point, but we also know that it's a process, so we're trying to do it the right way.
On Darius Bell:
He's not doing great. He got hit pretty good. He's very sore today. His shoulder is sore. His ribs and neck are sore; that side of his body is sore. We'll give him a couple days to see how he is. I talked to him 15 minutes ago and he's feeling a little better, but he's not feeling great. He's on medication to try to relieve the pain.
On whether he underwent a concussion test:
I don't know that. I don't know that he was ever in a position to have a concussion test. There was more concern with his shoulder, ribs and head. I know this, our doctors are very thorough with that.
On Torian White's knee problems:
It's nothing serious. He's gotta play through it. We have to manage it through the week to make sure. It's a fine line becuase he's a younger player. He needs those snaps during the week, but at the same time if you over work him and he's sore and he can't perform you're hurting yourself. You have to find the right mix. I don't know exactly (what it is). He was having trouble moving and his knees were bothering him.
On Jerry Johnson:
I think he'll be better this week. It was a rib cartilage. They can try to numb it during the game, but you still have to try to inhale and exhale. It was more difficult than he thought, but I commend him for giving it a try.
On Jordan Zumwalt:
He came through just fine. That gives us some options at linebacker with the way that Damien has played and what we're doing with him, how we want to position those four to get the best combination on the field as often as we can.
On dealing with losses in college compared to the NFL:
It's a lot more difficult becuase of the other things they have going on in their life. In the NFL you're not dealing with school. You're not really dealing with developing minds and developing personalities. They're young and it's their first real experience at failing. A lot of these kids have always been the best. They're not as weathered, as mature, as resistent to the criticism as the older guys. They haven't heard it before. You have to be careful, calculated and handle it the right way. It's a good challenge. I don't enjoy the losses, but the challenge to help these kids get through this thing is a good thing. They're going to face it their whole life. It's not easy, we all know that.