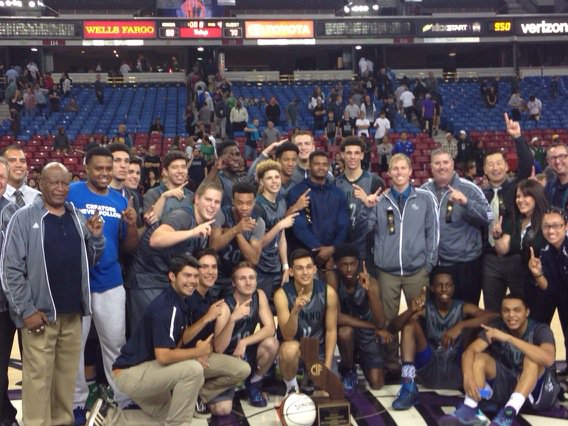 Well the Chino Hills boys basketball team has done all it can do to secure the mythical national championship.
The Huskies (35-0) put the finishing touch on an undefeated season, beating Concord De La Salle 70-50 to win the Open Division crown on Saturday in Sacramento. Chino Hills was No. 1 in multiple national polls so it wouldn't be likely they'd fall out of the top spot.
Or could they? Here's the monkey wrench in the dilemma.
There is an event called the Dick's Sporting Goods National Tournament which starts Thursday in New York and features a field of eight teams, all elite teams that have been part of the national picture all season.
Chino Hills is not playing in that event, through no fault of its own. It is an unsanctioned event and the CIF has never allowed a team from California to compete in it, not even the Mater Dei teams that have been highly ranked.
So will not playing in that event hurt the Huskies? I don't think it should. The played a difficult schedule and have 11 wins over teams that have been ranked. Mater Dei was a top 10 team and the Huskies beat them by 48 points. So they're beating good teams handily.
Montverde Academy (Fla) has won the event the last three years and is ranked No. 2 behind Chino Hills in the USA Today poll and is No. 3 in MaxPreps behind the Huskies and Oak Hill (Va.).
Chino Hills beat Montverde in a tournament in Florida so that win should speak volumes. Granted it was a 1-point win back in December but it's still a head-to-head victory.
Among the other teams in the Dick's event are Oak Hill, Findlay Prep (Nev.) and St. Benedict's, all top 10 teams by both MaxPreps and USA Today.
We'll see how it plays out.