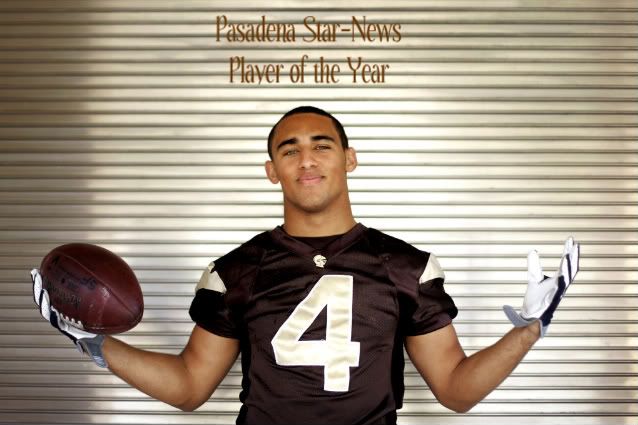 2009 STAR-NEWS ALL-AREA TEAM
Player of the Year – Dietrich Riley, St. Francis, Sr.
Coach of the Year – Ryan Maddox, Monrovia
FIRST TEAM OFFENSE
QB – Justin Posthuma, St. Francis, Sr.
RB – Benny Hung, San Marino, Sr.
AP – Nick Bueno, Monrovia, Jr.
WR – Josh Hanson, La Caada, Sr.
WR – Mike Alexander, La Salle, Sr.
WR – Taylor Lagace, Arcadia, So.
TE – Travis Talianko, St. Francis, So.
OL – Matthew O'Malley, Temple City, Sr.
OL – Patrick Carroll, St. Francis, Jr.
OL – Cameron St. George, St. Francis, Sr.
OL – Kizz Prusia, Monrovia, Sr.
OL – Harley Hulin, Monrovia, Sr.
PK – Ian Sternau, St. Francis, Jr.
FIRST TEAM DEFENSE
DL – Ellis McCarthy, Monrovia, So.
DL – Grant Haggard, Monrovia, Sr.
DL – David Chirikian, St. Francis, Sr.
LB – Josh Lowden, Monrovia, Sr.
LB – Christopher Cabrera, St. Francis, Sr.
LB – Cody Cowell, Rio Hondo Prep, Sr.
LB – Trent Converse, San Marino, Sr.
DB – Mark Covarrubias, San Gabriel, Jr.
DB – Dujawn Jones, Monrovia, Sr.
DB – Jarron Williams, Muir, Sr.
SS – Stevie Yortsos, San Marino, Sr.
P – Mark Dannhausen, La Salle, Sr.
CLICK ON THREAD FOR FIRST TEAM CAPSULES, SECOND TEAM LIST AND STORIES

SECOND TEAM OFFENSE
QB – Rocky Moore, La Caada, Sr.
QB – Isaac Valdez, San Gabriel, Sr.
AP — De'Shawn Ramirez, Monrovia, So.
RB – Max Ruckle, Temple City, Sr.
RB – Matt Fregoso, Rosemead, Jr.
WR – Mitchell Crockom, Alhambra, Sr.
WR – Ormoni Duncan, Muir, Sr.
OL – Andy Pankow, La Salle, Sr.
OL – Javier Sanchez, Rosemead, Sr.
OL – Chris Salgado, Alhambra, Jr.
OL – Alan Felix, San Marino, Sr.
OL – Nasser Shalabi, Arcadia, Sr.
PK – Gilmar Tenes, San Gabriel, Jr.
SECOND TEAM DEFENSE
DL – Luis Diaz, Rosemead, Sr.
DL – Nick Preciado, Rio Hondo Prep, Jr.
DL – Justin Sutton, Temple City, Sr.
LB – Derrick Johnson, Monrovia, Jr.
LB – Alex Lopez, San Gabriel, Sr.
LB – Corey Kennedy, Pasadena, Sr.
LB – Erik Johnson, Maranatha, Sr.
DB – Brent Johnson, La Caada, Sr.
DB – Brandon Wilson, Alhambra, Sr.
DB – Greg Parham, Rosemead, Sr.
SS – Charles Quintero, Rio Hondo Prep, Jr.
P – Matt Faber, La Caada, Jr.
HONORABLE MENTION
Alhambra – Darrian Cazarin, Vailele Peko, Joseph Becerra
Arcadia – David Schuil, Garrett Tuck, Albert Tran
Blair – Kory Alexander, Clifford Jones, Anthony Robles
Bosco Tech – Johnny Calderon, Dilon Welsh, Jesus Pasten
Duarte – Aaron Castillo
Flintridge Prep – Connor Dubin
Keppel – Edson Gomez, David Tapia
La Caada – Daleep Sandhu, Jay Kolina, Michael Arkfeld
La Salle – Michael Novell, Nate Ziomek, Kishon Sanders
Maranatha – Trent Washington, Cody Keith, Derek Tsao
Marshall – Ebenezer Haile
Monrovia – Charlie Cimmarusti, Dean Bisterfeldt
Muir – Kevon Seymour, Eddie Tripp, Danny Huerta
Pasadena – Nick Escoe, Anthony Boykins, Charles Hendricks
Pasadena Poly – Hunter Merryman, Blake Edwards
Rio Hondo Prep – Chris Llamas, Wesley Mosher, Jimmy Davis
Rosemead – Matt Macias, Coronado Simpson
San Gabriel – Eric Barcello, Arthur Brown, Luis Villegas
San Marino – Joe Forgatch, Ben Harwich, Danny Moas
South Pasadena – Conor Bednarski, Howard Serrian, Alejandro Chavez
St. Francis – Ryan Jenkins
Temple City – Justin Smith, David Spratt, Tim Sanderson
STAR-NEWS FINAL RANKINGS
1. St. Francis (9-3)
Very close to semifinal run
2. Monrovia (13-1)
Finished regular-season unbeaten
3. Muir (4-7)
Superb against Charter Oak
4. San Marino (9-3)
Let semifinals slip away
5. Rio Hondo Prep (13-1)
Injuries too much in finals
6. Rosemead (5-6)
Improved as season went on
7. San Gabriel (6-5)
Exciting in Almont League
8. Maranatha (9-3)
Fell short of expectations
9. La Caada (5-5)
Tough first-round draw
10. Pasadena (5-5)
Made football relevant again
==============================================
FOOTBALL PLAYER OF THE YEAR: St. Francis led a life of Riley in 2009
By Miguel A. Melendez Staff Writer
If it seemed like Dietrich Riley was all business during the football season, that's because his offseason was no joke.
The four-star recruit from St. Francis High School was intent on taking his training regiment to the next level because of what lied ahead – a tough Mission League and CIF-Southern Section Western Division playoff schedule, coupled with the bright recruiting spotlight shining from the likes of USC, Florida, Notre Dame and Tennessee, to name a few.
But the spotlight is nothing new for Riley. The 6-foot-1, 205 pounder stepped into it early in his career when, as a freshman, he was called up to play varsity as the Golden Knights were getting ready to open Mission League play. He didn't disappoint.
Riley made three catches for 109 yards and scored two touchdowns. His first taste of varsity football was the opening kickoff, which he returned near midfield. Riley admits he was nervous, but from that point on it all went smooth.
He's gone on to become one of the toughest and most prolific players in the area and garnered national attention with his bruising tackles, blistering speed and attention to detail, particularly on defense.
Riley's mere presence on offense – whether it was at running back, wide receiver or tight end – proved to be a weapon in the Golden Knights' arsenal simply because opposing defenses were forced to focus on his every move even if he wasn't the direct target.
Nevertheless, Riley still managed to be a defender's nightmare. He rushed for 899 yards and nine touchdowns and caught 29 passes for 436 yards and five touchdowns. Riley made 64 tackles and three interceptions, modest numbers but one must consider the limited time he played during nonleague when St. Francis was pummeling opponents, meaning Riley's services were needed only in the first half.
He could have padded his statistics, but Riley didn't, and still schools noticed his tremendous upside – UCLA, Washington, Cal and Oklahoma are among the well more than a dozen schools that find themselves in an intense bidding war for Riley's signature on a letter of intent, and it's easy to see why. He's ranked No. 7 nationally at his position and is on Rivals' top 100 recruits list.
Riley led St. Francis to its best finish in four years with a 9-3 record that included a near upset over one of the top teams in the state in Notre Dame of Sherman Oaks. St. Francis (2-1 in league) finished second behind Alemany and advanced to the quarterfinals of the CIF-Southern Section Western Division playoffs before losing to Palmdale in double overtime.
For his football prowess, national attention and what he's established in four years at St. Francis, Riley is the Star-News 2009 football Player of the Year.
There was virtually no position Riley couldn't play. He also played linebacker and returned punts and kickoffs. With so many responsibilities it was apparent to Riley he needed to get stronger and faster.
He did so by going through what he called "the hardest workout I have done in my whole life." The summer was spent waking up at 5 a.m. and working out for two hours running in the hills of Los Angeles with a personal trainer.
"I can't tell you where I ran or else I'll give away the secret," Riley quipped. "Pretty much where Bo Jackson and the Olympians ran. My trainer was preparing me not just for high school but also college. We were thinking long-term."
Afterward, Riley spent the day working. It made for a long day, but the early morning workouts paid dividends.
"It made a huge difference in my game," he said. "Upper body strength, becoming explosive, it all was a huge improvement."
While the long-term goal was getting ready for college game speed and possibly moving on to the NFL ranks, Riley made it a goal to not let those ambitions fog his high school expectations.
He felt this season's St. Francis team had the best shot at making its deepest playoff run, but a hamstring injury one game before the start of league slowed him down a bit.
"It was pretty frustrating, especially because I was doing well in the beginning of the game (against Loyola)," said Riley, who had 13 tackles and two touchdowns in the game before his injury. "To be honest with you I was nervous because after I got injured we had a fumble go over Justin's (Posthuma) head and a three-and-out.
"But they got a spark and Justin showed why he's capable of being the best quarterback."
Riley is one of seven California players selected to play in the 2010 Under Armour All-American game, one of the nation's premiere high school all-star showcase events that will be played Jan. 2 in Orlando and televised live on ESPN.
"Dietrich is probably the most gifted athlete I have ever coached," said St. Francis coach Jim Bonds, in his 10th year at the helm. "His size, strength and speed combined with his unbelievable athleticism made it fun to watch him on our varsity team for the last four years. It'll be strange not having him around next season. We'll have to settle for watching him on TV."
While he soon plans on announcing where he'll play Saturdays, Riley already is reminiscing about what he'll miss most about his high school experience.
"I'll miss seeing the young kids racing to give me water during timeouts," Riley said. "That's always fun to see them because they're so innocent, just like high school football is, it's innocent. Once I get to college it's basically business where coaches are getting paid millions. Here, it was all about pride."
miguel.melendez@sgvn.com
===============================================
FOOTBALL COACH OF THE YEAR: Maddox has Monrovia on the right path
By Miguel A. Melendez Staff Writer
MONROVIA – Ryan Maddox walked into Monrovia High School last year and realized he was the head football coach at one of the most tradition-rich programs in the San Gabriel Valley.
Certainly there was work to be done for the rookie coach, but it wasn't like he walked into a program that needed to be picked up off the floor. It was more like having a Ferrari that just needed to be reminded it was a Ferrari, and Maddox did just that.
In his rookie season as head coach, Maddox led the Wildcats to a Rio Hondo League championship and a surprising run to the semifinals of the CIF-Southern Section Mid-Valley Division playoffs.
He wasted no time this season and started right where he left off, and by continuing to implement his philosophy of simply improving each week Maddox had Monrovia undefeated at regular season's end, another Rio Hondo League title, a No. 1 seed in the Mid-Valley Division playoffs and a trip to the ninth divisional finals in school history.
The season ended in disappointing fashion with a 12-7 defeat at the hands of San Dimas in the title game.
Maddox, however, accomplished his goal of improving each week, and if his accomplishments this year are any indication of what's to come, then Monrovia will hoist a CIF banner sooner than later.
Maddox meticulously dissected game film and approached each game with a Zen-like demeanor. As a result, his coaching staff followed suit and the team responded with consecutive victories that energized an entire community.
For that, Maddox is the 2009 Star-News football Coach of the Year.
"Coming in here, a lot of players had left to go to Charter Oak or other schools, and the expectations were fairly low," Maddox said. "But I knew we still had really good football players.
"Honestly, my expectations coming in here was to build a program and do things the right way. As far as my first-year expectations, we exceeded them, but my overall goal is to get my team to play as a team and number two that we are continually progressing throughout the season and each week moving toward playing our best football."
Monrovia hit the ground running this season, pummeling opponents and three times knocking off the No. 2-ranked team in the Mid-Valley Division, Rosemead, along with San Dimas and San Marino.
But don't quite call it immediate success just because Maddox wrapped up his second season at the helm.
"It was immediate in the final result," Maddox said. "But when we started this all took a while."
The key footnote to the success was Week 4 against Beckman last year when the Wildcats turned the corner and finally became comfortable with the newly-implemented Wing-T offense.
"It took a while to buy into the team concept," Maddox said. "By no means was this all done overnight. It was a challenge."
Maddox always was animated on the sidelines, but was never one to berate an athlete or one of his assistant coaches.
"You want to treat people with respect," Maddox explains. "Referees make mistakes, coaches make mistakes and players make mistakes. Yelling at them and berating is not the way to treat anybody. It's not going to change a call, whether you agreed or not. The call's already happened."
Because of his calm but steady demeanor, Maddox immediately earned the respect of his administrators, coaches and players.
"You have to be who you are," Maddox said. "I'm pretty upbeat. I'm passionate about what I do, but I'm not screaming and hollering. I love teaching and I love coaching, so you have to be who you are. Otherwise people see through it as fake."
Monrovia principal Dervin Jackson said he couldn't be more pleased with Maddox, whom he called first and foremost a teacher.
"He's been able to foster personal growth within the students," Jackson said, "and it's carried out onto the football field."
Ben Mendoza, in his 15th year at Monrovia and an assistant on Maddox's staff, says he sees the passion in Maddox, but what defines him is his role as a teacher.
"The main thing is making them better people and a better person so they can succeed in life," Mendoza said. "He wants to instill good values because some of these kids don't have those values at home. We are their discipline, and it starts with Maddox."
With so much talent on this Monrovia team it could have been easy massaging egos, but Maddox steered the ship right all season long, and chances are the waters will be calm with Maddox at the helm.
miguel.melendez@sgvn.com