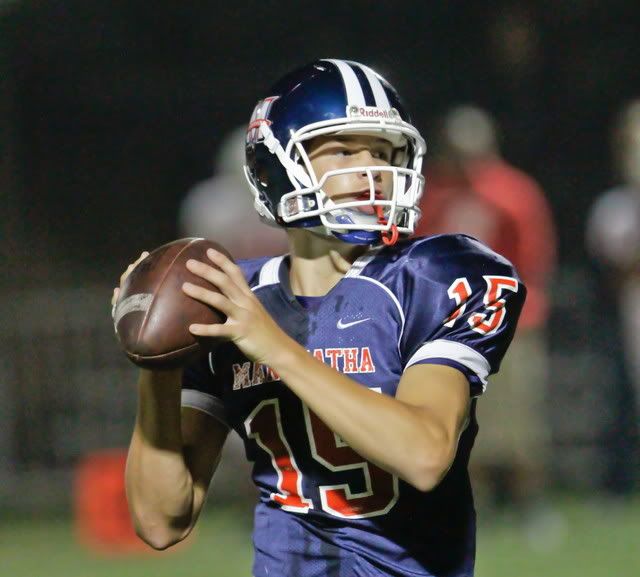 Photo courtesy of David Thomas
If you happened to be at last Friday's game pitting Maranatha and Cerritos Valley Christian, you definitely got your money's worth. If you were there, you got to see more than several stars in the making. Omar Younger showed he can take a hit. The collision knocked Younger's helmet off, and ultimately Younger out of the game. He suffered a concussion and is listed day-to-day.
There were others who had impressive perofrmances. Jeremy Major, Mark Jebbia, R.J. Straker, Josh Jones quickly come to mind.
If you happened to be at the game, you also got a chance to see one of the best sophomore quarterbacks in the nation. Yes, in the nation.
Elffers, a 6-foot-2 slinger with stunning field vision, completed 34 of 57 passes for 587 yards and six touchdowns on Saturday. He completed nearly 67 percent of his passes, and perhaps more remarkable, is the fact he threw no interceptions.
So far this season, Elffers has completed 64 percent (127-of-200) of his passes through eight games. He's passed for 2,236 yards (279.5 yards per game) and 23 touchdowns against just six interceptions. That's a QB rating of 127.
More than impressive.
Now let's see how the numbers stack up against the rest:
Elffers' total yards passing is No. 1 in the Olympic League and it's also tops in the Mid-Valley Division as well as the entire Southern Section. Elffers also is the No. 1 quarterback among sophomores in California by more than 500 yards over Cathedral QB Hayden Rettig, brother of former La Salle QB and San Clemente QB Chase Rettig (Boston College).
Elffers is No. 3 among all quarterbacks in California and the No. 5 sophomore quarterback in the nation.
The consensus among Valley Christian fans who chimed on the blog over the weekend is that Maranatha is more than ready to compete in the Mid-Valley Division, despite what the Minutemen Olympic League record may indicate.
Fortunately for Maranatha, Elffers is only a sophomore, and he will only get better. Maranatha has produced Matt Schilz (Bowling Green) among other athletes who have gone on to play at Division I schools, but it may be safe to say that Elffers may soon be the Minutemen's best prospect.
Unfortunately for the rest of the Olympic League and Mid-Valley Division, Elffers is only a sophomore, and he will only get better. With his vision, powerful arm, ability to elude the pass-rush and extend plays with his legs, Elffers will make Maranatha a force to be recokned with for the next few years.
Good luck with that.