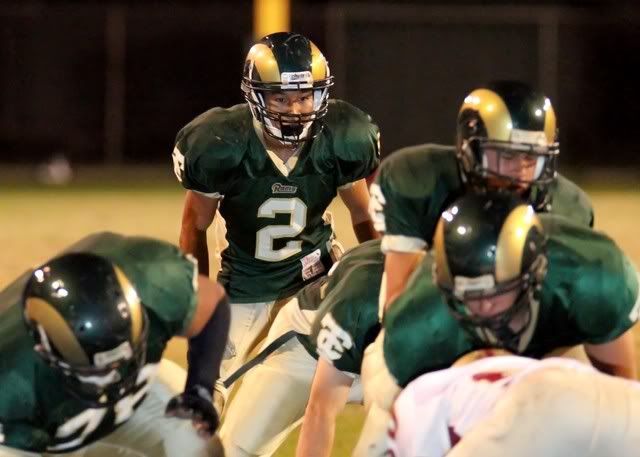 Above: Joshua Simangunsong (No. 2) has been a lightning rod for the Temple City offense. (Photo courtesy of Rick Ramirez)
Temple City's Joshua Simangunsong has taken the Rio Hondo League by storm. The 5-foot-8, 145-pound senior is a running machine, to say the last. The talented running back has rushed for 859 yards and 10 touchdowns this season and has rushed for at least 100 yards in four of the five games this season. He's scored at least one touchdown in each game and is coming off a remarkable 224-yard rushing performance on 27 carries and three touchdowns to lead the Rams to a 27-15 win over La Canada. That win helped the Rams improve to 2-0 in league. Temple City has its biggest test of the season Friday night at 7 when the Rams square off against Monrovia at Maranatha High. I got to spend a few minutes with Simangunsong during Monday's practice. For one, I learned how to properly pronounce his last name. He's well-liked among his teammates, and it's easy to see why. Simangunsong's mile-wide smile and outgoing personality makes it easy to root for the kid.
Born (date and location): April, 23, 1993 in Jakarta, Indonesia
Favorite TV shows: SpongeBob SquarePants and anything on Nickelodeon
What's in my iPod: Hill Song, Reliant K, All Time Low
Dream car: Not a car guy
Favorite movie(s): John Q
What I'm reading right now: Siddhartha (novel)
I'd love to trade places for a day with: Bob Sanders
A talent I'd most like to have: Dance
Favorite meal: Curry
Favorite athlete to watch: Bob Sanders
Dream vacation: Australia
Favorite sports team: Indianapolis Colts
Dream date would be with: Jessica Biel
My hero is: Jesus Christ
Goal for the season/year: Win league
Best advice I've received from a coach: Dip in, dip out.