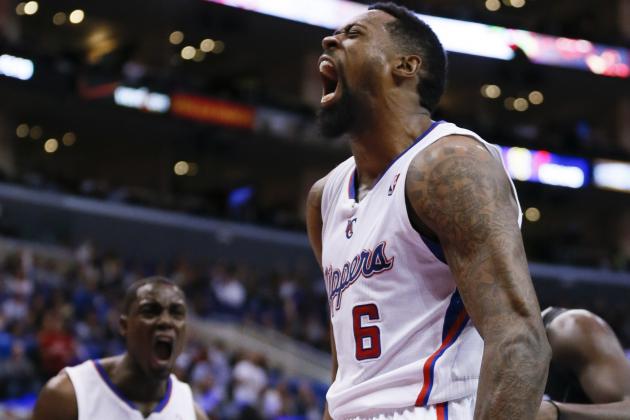 Photo by Associated Press
Center DeAndre Jordan made terrific strides this past season. He became one of the most feared defenders in the league, as well as its best rebounder. For his efforts,
Jordan finished third in voting for the NBA's Defensive Player of the Year, fifth for Most Improved.
But his season-long troubles from the free-throw line – which at times had opposing coaches ordering him fouled on purpose – as well as his random disappearing acts in
the playoffs demonstrated he still has lots of work to do.
Jordan shot just 42.8 percent from the free-throw line in 2013-14. Sure, that was up from 38.6 percent a season earlier in 2012-13. Then again, he shot a career-best 52.5 percent in 2011-12. Sometimes, he's not even close to making his free throws. Air balls are not uncommon.
It's not that he doesn't take them seriously. Jordan is obviously a player who cares very much about everything he does on the basketball court. The pained expressions
he wears after a bad trip to the line bear that out. Go to a Clippers practice or shoot-around, and there is Jordan working with a coach on his free throws.
Perhaps he should think about using Rick Barry's granny-style free-throw shot. And we're not saying that to be sarcastic. Barry shot 89.3 percent from the line over a
14-year career; he shot over 90 percent seven times, including the last six seasons of his career. All due respect, Jordan probably couldn't get much worse. So why not give it a shot?
As for Jordan's 13-game playoff run that saw the Clippers lose 4-2 to Oklahoma City in the Western Conference semifinals, it's interesting to note Jordan's statistical lines in the four defeats to the Thunder. Keep in mind that during the regular season he averaged 10.4 points, 13.6 rebounds and 2.48 blocks. In a Game 2 loss to the Thunder he had seven points, eight rebounds and zero blocks. In a Game 3 loss he had 10 points, 11 rebounds and three blocks. In a Game 5 loss he had zero points, just four rebounds and no blocks. In Game 6 he had nine points and 15 rebounds, but again no blocks.
Some of this was due to foul trouble, which just adds to the negativity. But these off games were not the result of poor free-throw shooting getting into his head. He shot a combined four free throws in those four losses, making two.
The thing about Jordan is he wants very much to become a star in this league (as evidenced by his emotion in the above Associated Press photo). If anyone can improve upon some of these things, it's got to be him. He must start with his free throws because being the second-worst in the league in that department – Detroit's Andre Drummond shot 41.8 percent – is just not acceptable. He must do whatever it takes to turn this around.
Here's something else: Jordan next season will be in the final year of his four-year contract; he'll get $11,440,124 in 2014-15. Currently just 25, Jordan will be 26 after the season. Not saying the Clippers won't re-sign him if he doesn't get better from the line, but Jordan might be hard-pressed to get what he believes he deserves if he shoots under 50 percent yet again, and/or doesn't have a better overall post-season performance.
He was 33 of 76 from the line this post-season. That equates to 43.4 percent.