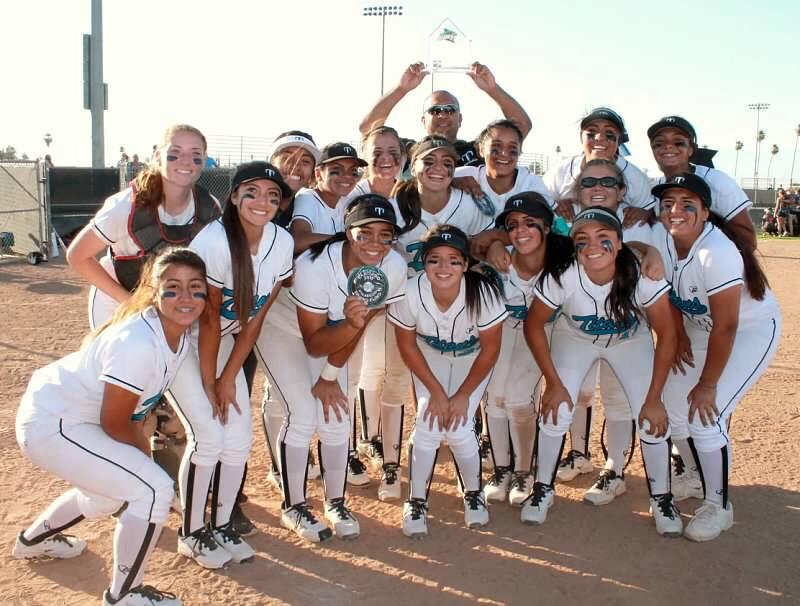 Grand Terrace celebrates on Saturday (via @Flores7899 on twitter)
Grand Terrace won the competitive Santiago Spring Fling Tournament on Saturday, hosted by Corona Santiago.
The event covers two weekends. On April 10, Grand Terrace defeated Valencia West Ranch 5-1 and on April 11, defeated Oak Hills 7-3 before losing to Murrieta Valley 2-1. Last Saturday, the Titans finished off the title with a pair of wins 4-3 over Citrus Valley and avenging their earlier tournament loss by beating Murrieta Valley in the finals, 7-2.
How impressive was it? Murrieta Valley and West Ranch are both ranked in the top 10 in Division 1 and Citrus Valley, although unranked had defeated tournament host Corona Sanitago (ranked No. 2 in Division 1) earlier in the tournament.
On Saturday, Melanie Olmos starred in the circle and at the plate. She was the winning pitcher in both games. She drove in two runs, including the winning run against Citrus Valley and had two more hits and drove in two more runs against Murrieta Valley.