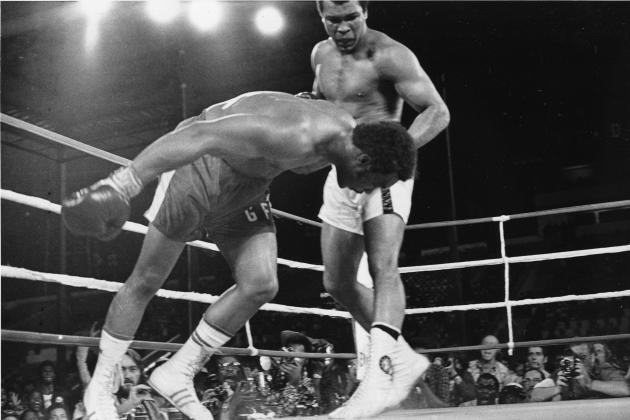 George Foreman is on his way down in his 1974 fight with Muhammad Ali/Associated Press file photo
The subject of Tuesday night's "The Fight Game" with Jim Lampley on HBO will center on the late Muhammad Ali, who died June 3 at age 74. George Foreman, who was knocked in the eighth round by Ali in October 1974 in Zaire, Africa, will recall a conversation he had with Ali some four years after they fought.
"It was the last of the '70's, I believe 1978," said Foreman, who lost his two heavyweight championship belts to Ali. "Muhammad Ali, I do not know how he got my number because he avoided me; he didn't want to give me a title rematch.  He called and complimented me for about 20 minutes. Then he said 'George, would you do me a favor?' He knew I liked him, (so) I said, 'Certainly.'
"He said, 'Please come back and beat Ken Norton and fight him for me. They are going to strip me of my title and I can't beat him George; you can. He's afraid of you.  I'll let you use my training camp and everything, but please come back and beat him for me.' "
From that point on, the two were amigos.
"That day forward we became the best of friends and we starting talking on the telephone," Foreman said. "He'd call me, I would try to run him down wherever he be. We had these religious conversations. His children became good friends with my children. That is where the love affair began – right there at the end of the '70's."
Ali fought Norton three times. They tangled twice in 1973 with Norton winning the first fight by split-decision and Ali winning the second by split-decision. Ali was scored the narrow unanimous-decision winner in their rubber match in 1976, but many observers thought Norton deserved the victory in that one.
Tuesday's telecast begins at 8 p.m. (Pacific time).