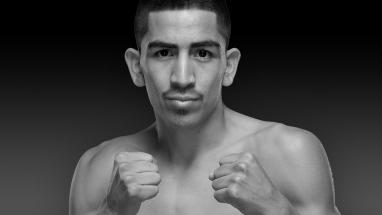 Leo Santa Cruz/Photo courtesy of Premier Boxing Champions
Trash-talking is part of the sweet science. Heck, it's part of every sport. But it's always nice when there is none because there's nothing wrong with athletes showing some class.
Leo Santa Cruz of Lincoln Heights and Carl Frampton of Belfast, Northern Ireland on Thursday played host to a Los Angeles news conference promoting their Jan. 28 rematch at MGM Grand in Las Vegas (on Showtime). The two squared off on July 30 at Barclays Center in New York City, Frampton taking Santa Cruz's featherweight world title via majority decision in a close, and terrific, fight.
"I think the rematch with Leo Santa Cruz is going to be an amazing fight," Frampton said to reporters and fans outside the Los Angeles Central Public Library. "The first one is considered one of the fights of the year. I don't think it's going to be any different. I think we're kicking off 2017 with a bang, and Leo is an amazing fighter."
Frampton (23-0, 14 KOs) thanked Santa Cruz (32-1-1, 18 KOs) for giving him the shot in July, and that he was only too happy to give him the rematch as quickly as possible.
"These are the type of fights I want to be involved in," said Frampton, 29. "If you want people to remember you in 20 or 30 years time, when you thank boxing, you need to be thanking guys like Leo Santa Cruz. I respect him a hell of a lot, I respect him and his team."
Santa Cruz, 28, was equally kind.
"Carl Frampton is a great fighter and you guys saw, he got the respect from you guys because he showed that he's a great fighter, a great champion," he said. "And I know it's going to be a pretty even fight this time, too, a pretty close fight because we both are world champions and we both train really hard for our families, for you guys, for the fans – to give them great shows."
Santa Cruz a couple of days earlier at a news conference in Belfast said that he's looking forward to this training camp because for the first fight his father's health was weighing heavily on him.
Promoter Richard Schaefer of Ringstar Spors announced at the news conference that Jose Santa Cruz's cancer is in remission. A big round of applause followed.
Schaefer said more than half of the 13,000-plus tickets available for this were sold on the first day. They are priced $54, $104, $204, $304, $404 and $504.