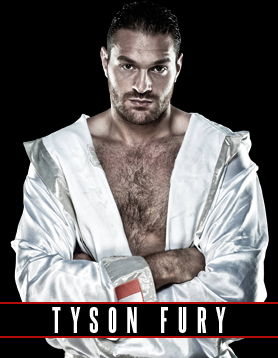 Tyson Fury/Photo courtesy of Hennessy Sports
The heavyweight championship rematch between Tyson Fury of England and Wladimir Klitschko of the Ukraine on Friday was called off for the second time. The two were to tangle Oct. 29 in England, but a statement from Hennessy Sports, which promotes Fury, indicated it won't happen.
The two first fought this past November in Germany, Fury winning a unanimous decision and Klitshcko's three belts. They were slated to go at it again in July, but Fury claimed to have a sprained ankle.
Here is the today's statement, verbatim, from Hennessy Sports: "It is with the deepest regret that we have to announce that the World Heavyweight Championship rematch between Tyson Fury and Wladimir Klitschko, scheduled to take place on the 29th October 2016 at the Manchester Arena, will not be going ahead.
"Tyson has, this week, been declared medically unfit to fight. Medical specialists have advised that the condition is too severe to allow him to participate in the rematch and that he will require treatment before going back into the ring. Tyson will now immediately undergo the treatment he needs to make a full recovery.
"We and Tyson wish to express our sincerest apologies to all those concerned with the event and all the boxing fans who had been looking forward to the rematch. Tyson is understandably devastated by the development.
"We will be making a further statement in due course. Until then, we ask that Tyson and his family be given the privacy and the space he needs to recover during this difficult time.