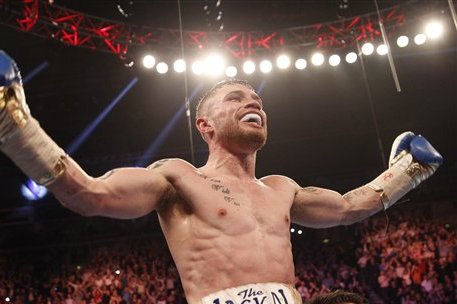 Carl Frampton will take on Leo Santa Cruz in a Jan. 28 rematch in Las Vegas/AP photo by Peter Morrison
There has been some chatter about how difficult it must have been for Leo Santa Cruz to train for his fight this past July 30 against Carl Frampton of Northern Ireland. Santa Cruz's father, Jose, was very sick from his battle with cancer, so it's understandable if the younger Santa Cruz wasn't entirely focused on the task inside the ring. (Jose Santa Cruz is now in remission).
Frampton, who took Santa Cruz's featherweight title via majority decision that night at Barclays Center in Brooklyn, concedes Santa Cruz had a lot going on from a personal standpoint. But he finds it hard to believe Santa Cruz could have fought much harder than he did.
"There's no doubt that Leo went through a difficult time with his father's illness," said Frampton, who Jan. 28 will tangle with Santa Cruz in a rematch at MGM Grand in Las Vegas (on Showtime). "I also know that Leo trained very hard anyway. He threw about a thousand (1,002) punches last fight and was throwing all the way to the end. You can't throw much more than that, so I don't think he's going to improve his work rate.
"I believe he'll come up with a different game plan, but I genuinely believe that I'll be able to deal with anything he brings to the ring. It's not going to be an easy fight, but I'll do whatever it takes to win and I believe I will."