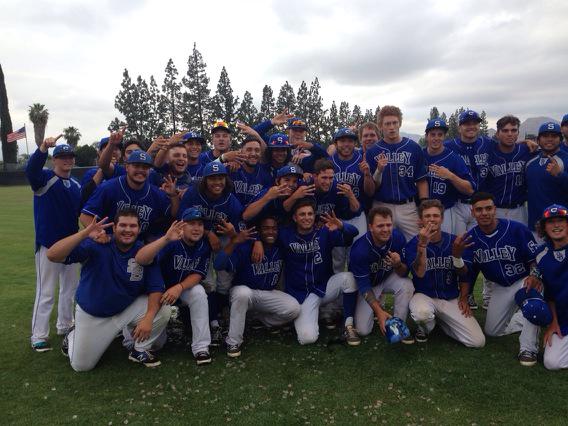 The SBVC team celebrates conference title after 1-0 win over Rio Hondo
With a third straight Foothill Conference crown in hand, the San Bernardino Valley College baseball team now looks to the playoffs.
The Wolverines (23-13) will host No. 11 Saddleback (23-13) in a best-of-three first round series which starts with a 2 p.m. game on Friday.
Game two, and three if necessary, will be on Saturday.
SBVC is looking to win a playoff game for the first time since 2005 when it defeated Orange Coast in the second game of a best-of-three set.
This was the school's 15th conference title.
Here is the playoff schedule:
Tuesday's games (single elimination)
No. 17 Irvine Valley at No. 16 LA Mission (22-14)
No. 18 Riverside (21-15) at No. 15 Cerritos (22-14)
Best-of-three (First games Friday)
Lowest remaining seed at No. 1 Palomar (30-6)
No. 9 Southwestern (28-8) at No. 8 Glendale (19-17)
No. 12 Fullerton (21-15) at No. 5 Cypress (25-11)
No. 13 Cuesta (20-16) at No. 4 Golden West (23-13)
No. 14 Rio Hondo (26-10) at No. 3 Santa Barbara (28-8)
No. 11 Saddleback (23-13) at No. 6 San Bernardino Valley (23-12)
No. 10 Orange Coast (21-15) at No. Long Beach (20-16)
2nd lowest remaining seed at No. 2 Oxnard (26-9-1)