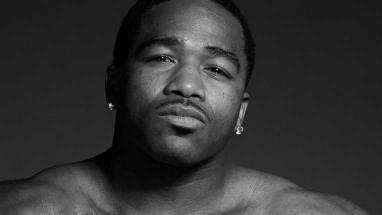 Adrien Broner/Photo courtesy of Premier Boxing Champions
Adrien Broner of Cincinnati has held world titles in four weight classes. He is currently without a title, however, and he wants to change that.
The first step in that direction will be a bout against former sparring partner Adrian Granados on Feb. 18 at Cintas Center in Cincinnati (on Showtime).
The interested parties hosted a news conference there Tuesday, and the fighters spoke about their knowledge of one another.
"We've brought Granados into camp for sparring before, but I'm a much different fighter now," said Broner, 27. "I know he is, too, and I think it's going to make an exciting, explosive fight."
Granados' credentials pale in comparison to Broner's. Granados (18-4-2, 12 KOs) has never even fought for a major title, and as recently as September 2015 he boxed on a small club card at the Quiet Cannon in Montebello. Yet, Broner believes he can't afford to overlook him.
"Granados is no pushover," Broner said. "He's not an opponent that anybody can just pick up a win (against). I know Adrian Granados will bring out the best in Adrien Broner."
Promoter Floyd Mayweather Jr. is of a similar mind.
"These are going to be two hungry lions in the ring, and that's what it's all about," Mayweather said.
Granados, 27, intimated he may have a surprise or two in store for Broner (32-2, 24 KOs).
"I'm confident that I'm more determined than any other fighter I'll face," said Granados, of Cicero, Ill. "I'll also have a few tricks up my sleeve on fight night. I haven't shown everything in my arsenal.
"I was in camp with Adrien Broner when he fought Marcos Maidana, so I know him pretty well. I've been compared to Maidana, but everyone has their own style. I'm going to get this win my own way."