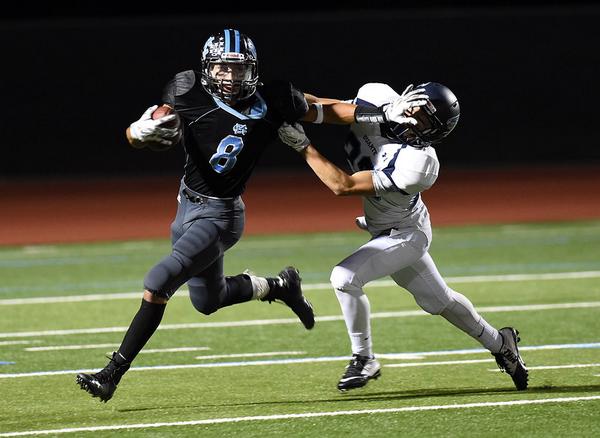 Rarely do the first few games of the season prove to be a turning point. For the Montclair Cavaliers that was indeed the case.
Montclair officially went 3-7 but it was on the field at 5-5. The difference were forfeits of the first two games of the season both of which they won decidedly over San Gabriel (42-0) and Garey (23-6).
That came after the Cavaliers won a third game which would have made them 3-0. Alas, it was 1-2.
Coach T.J. Fiorenza tried to stress that his team did win on the field and that the ultimate goal of a league title was still in sight but he doesn't think his team ever really bounced back mentally.
"I don't think out guys ever bounced back," he said. "I know it was early but we never really were the same after that."
But it's a new year and Fiorenza is as optimistic as most coaches. He returns seven starters on offense and four on defense so improving on last year's fifth-place finish in the Mt. Baldy League is doable.
"I think we're going to be a lot better," he said. "Our guys worked hard and I liked what I saw out of the passing leagues. We're definitely looking forward to that new start."
Senior Jose Campos inherits the starting quarterback spot after seeing some playing time a year ago.
Fiorenza expects the wide receiving unit to be his best. Among the other experienced athletes coming back there are  seniors Joseph Martinez and Gustavo Herrera and juniors Devin Mclee and Robin Wiley.
Othe veterans are senior corner back Dante Haro, senior offensive lineman Nick Orozco, senior safety Daniel Carlin, senior defensive end-tight end Jose Rivera and senior linebacker Cris Arismendez.
Among the newcomers is sophomore strong safety Roy Wiley, younger brother of Robin, who Firoenza says has outstanding potential.
Other promising newcomers include sophomore defensive tackle Diego Sanchez, junior running back-linebacker Matthew Mendibles and junior linebacker Jason Le.
"The key for us, like it always is, is staying healthy," Fiorenza says. "We can't afford to lose guys, especially for a long time."
The Cavaliers open the season Aug. 28 at San Gabriel. The first game will be the following week against Garey.