Steve Ramirez was talking about Friday's Glendora-Chino Hills boys basketball game, and said that Dominic Tiger-Cortes was the best pure shooter he's seen since Glendora's Tracy Murray. It got us talking about the best team in Tribune history, which starts with the best player ever, and that goes to Tracy Murray. He averaged 44 points his senior season (2nd all-time in CIF-SS) and became the CIF-SS and state single-season scoring leader, finishing with 1,505 points in 1989. Murray averaged 32 points in his career (3rd all-time in CIF-SS), and scored 3,053 career points (3rd all-time in CIF-SS). He was the Division II player of the year in 1989. He also starred at UCLA and had a modest NBA career.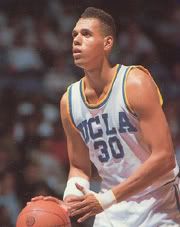 Tribune First Team
Tracy Murray, Glendora, 1989 (Remember the Murray Meter. During the year he averaged 44 points a game and set a state record, we ran what was called the Murray Meter, in which we tracked every one of his games in a countdown toward the state record. He was the greatest show in SGV history)
Mike Smith, Los Altos, 1983 (Maybe the best athlete of all. Not only was he one of the best basketball players ever, but he was also one of the best quarterbacks. He had a stellar career at BYU).
Scott Williams, Wilson, 1986 (Was the 3-A player of the year in '86 and played with Michael Jordan on three NBA championship teams).
Keith Van Horn, Diamond Bar, 1992 (He was great in high school and got better in college. He was a three-time WAC player of the year at Utah and all-time leading scorer with 2,542 points. He also had the best pro career of anyone on this list).
Casey Jacobsen, Glendora, 1999 (The CIF-SS all-time scoring leader with 3,284 points, and only two-time All-CIF player of the year. He had a good career at Stanford and was a journeyman in the NBA).